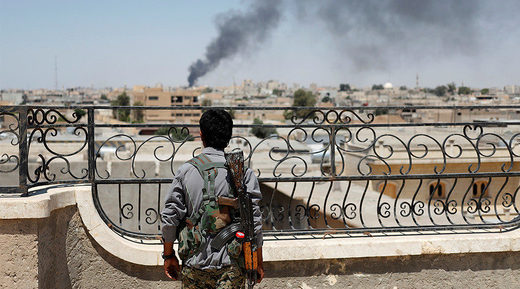 RT has spoken with the cousin of the missing pilot who was in the Syrian jet recently shot down by the US-led coalition over Raqqa province. Majd Fahd hopes Syrian troops will find his cousin, and said the coalition was "totally wrong" to strike the plane.
"I can't verify any information due to lack of confirmation, but they said that our Syrian troops are looking for him right now and we believe that they will find him," Majd Fahd told RT.
A Syrian Su-22 jet was shot down by a US aircraft in the vicinity of Raqqa on June 18. Damascus asserts that at the time of the attack the pilot was carrying out a mission "to destroy IS [Islamic State, formerly ISIS/ISIL] terrorists."
The US-led coalition claims that the Syrian plane was bombing American-backed forces on the ground.
"At 6:43pm, a Syrian regime SU-22 dropped bombs near SDF [Syrian Democratic Forces] fighters south of Tabqah and, in accordance with rules of engagement and collective self-defense of Coalition partnered forces, was immediately shot down by a US F/A-18E Super Hornet," the Combined Joint Task Force - Operation Inherent Resolve said in a statement.
In his comments to RT,
Fahd backed the Syrian side as "definitely saying the truth." He added that, in his opinion, "the Americans were totally wrong in making the decision [to attack the plane]."

Fahd observed that "the US would not be in a 'classic' war with the Syrian Army and allied forces," so instead they chose to lead "a proxy war."
The forces in question are US-supported local militia trying to re-capture Raqqa from IS.
Alaa Ebrahim, a Damascus-based RT stringer, said:
"According to several military sources operating in the area, the fighter jet was carrying out an operation against an ISIS convoy, and in no way posed any direct or indirect threat to those militia."

Ebrahim went on to point at the US aims in taking the step.

"The US is trying to draw boundaries and red lines for the Syrian Army not to cross them."
The journalist's opinion is echoed by Ammar Waqqaf - director of the UK-based think tank Gnosos.
"This is being used as a principle, to prevent the Syrian Army from restoring the Syrian sovereignty, against rebels, against Daesh [Arabic pejorative term for IS]. In a sense, about a year ago, the US were passively using IS forces to put pressure on the Syrian Army. Now they seem to be actively protecting them, and this is madness."
Moscow has condemned the attack on the Syrian plane, calling it "an act of aggression" that is "directly in breach of international law." The Russian military also said it would be
halting cooperation
with the US side on the Syria-designated memorandum on air safety, since, according to Moscow, the
US did not use the channel to warn Russia of the coalition's actions.