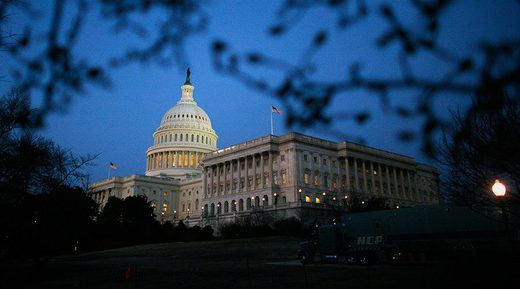 A measure codifying into law the US sanctions against Russia was approved in the Senate by a veto-proof majority of 97 to 2. The amendment requires congressional review before any sanctions are lifted, and allows for new ones.
Amendment 232 has been attached to Bill 722 imposing sanctions against Iran, which the Senate is currently debating.
Known as the Crapo Amendment, after Mike Crapo (R-Idaho), chairman of the Senate Banking, Housing and Urban Affairs Committee, the
measure was endorsed
by Foreign Relations Committee Chairman Bob Corker (R-Tennessee) and ranking member Ben Cardin (D-Maryland).
The sanctions against Russia are "in response to the violation of the territorial integrity of the Ukraine and Crimea, its brazen cyber-attacks and interference in elections, and its continuing aggression in Syria," according to the sponsors.
Under the amendment, any executive sanctions imposed on Russia by the Obama administration cannot be lifted without congressional review.
The amendment also allows
"broad new sanctions on key sectors of Russia's economy, including mining, metals, shipping and railways" and authorizes "robust assistance to strengthen democratic institutions and counter disinformation across Central and Eastern European countries that are vulnerable to Russian aggression and interference."

New sanctions would be imposed on "corrupt Russian actors" and those "involved in serious human rights abuses," anyone supplying weapons to the Syrian government or working with Russian defense industry or intelligence, as well as "those conducting malicious cyber activity on behalf of the Russian government" and "those involved in corrupt privatization of state-owned assets."
Senators Rand Paul (R-Kentucky) and Mike Lee (R-Utah) voted against the amendment, while Chris Van Hollen (D-Maryland) abstained.
Earlier this week, Secretary of State Rex Tillerson told lawmakers that US allies around the world had asked Washington to improve relations with Russia, and warned that further measures against Moscow could hinder ongoing progress in the fight against terrorism in Syria.
"I have yet to have a bilateral, one-on-one, a poolside conversation with a single counterpart in any country: in Europe, Middle East, even South-East Asia, that has not said to me: please, address your relationship with Russia, it has to be improved," Tillerson said on Tuesday,
testifying before the Senate appropriations subcommittee about the proposed State Department budget.