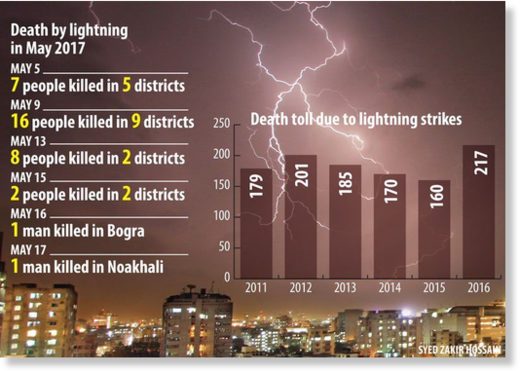 Bangladesh has seen an alarming rise in deaths caused by lightning strikes in recent years,
yet the government has failed to devise an effective plan to help reduce the risk.
The government declared lightning a major disaster after 217 people were killed by strikes in 2016 alone.
So far this year, the Ministry of Disaster Management and Relief says

62 people have reportedly died
,
bringing to

1,174 the number of people killed by lightning since 2011

.
Experts believe a lack of preventive measures is a major reason for the high death rate.
"People in urban areas are vulnerable to lightning as most buildings do not have a lightning prevention system, even though it is mandatory under Bangladesh National Building Code," said Gawher Nayeem Wahra, director of Brac's Disaster Management and Climate Change programme.
"Some old buildings have metal rods or objects to divert lightning strikes, but most of the new buildings do not have such mechanisms," he added.
It is the people living in the rural and haor areas, however, who are the most vulnerable to lightning strikes because of rapid deforestation.
"We are drastically cutting down large trees and making people more vulnerable to lightning," said Gawher.
The Ministry of Disaster Management and Relief has undertaken a project to plant one million palm trees across Bangladesh, especially in haor areas in Sunamganj, Netrakona, Sylhet and Brahmanbaria, as a preventive measure.
"We have instructed each upazila administration to plant at least 2,500 trees in every upazila if the space is available," said Abu Sayeed Mohammad Hashim, additional secretary at the ministry.