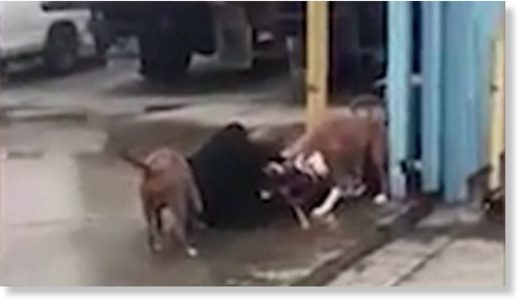 This is the chilling moment cops open fire on three pit bulls after they viciously attacked a man and killed his tiny dog.
The officers were forced to shoot the dogs after earlier attempts to scare them off using batons and a water hose had failed.
A mobile phone video of the brutal attack shows one man - believed to be the owner - desperately trying to restrain the pit bulls.
The clip then shows officers using batons in a vain attempt to stop the bloody mauling - which lasted for nearly five minutes.
Officers try clubbing the dogs repeatedly in an attempt to stop the attack
before drawing their weapons and shooting them at point blank range.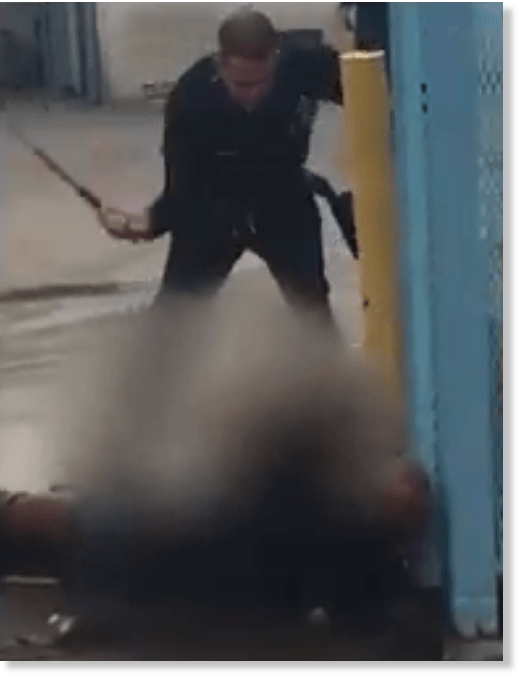 In the video the man trying to stop the dogs killing their prey is heard screaming "Somebody help me."
Nearby the injured pet owner - who was in his 50s - is seen lying on the ground shouting "they've got my dog."
Eyewitness Michael Lopez said: "As soon as they saw it (the dog) they attacked it."
Local workers tried to intervene but were soon driven back by one of the fierce pit bulls.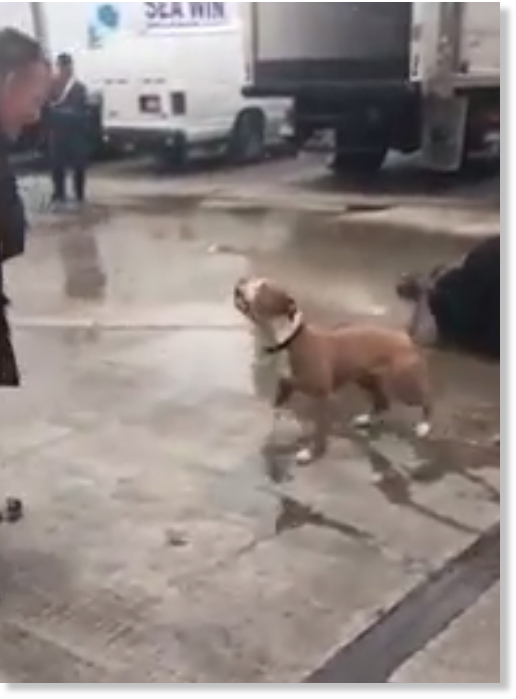 The attack happened in the "Skid Row" section of downtown Los Angeles just before 9am on Wednesday morning.
The unidentified dog owner suffered multiple bite wounds to his legs and body and was rushed to hospital by ambulance.
He is reportedly in a stable condition.
The small dog the man was walking was killed almost instantly by the pit bulls, cops said.
When the attack started the owner of the three dogs desperately tried pull them off the man and his dog, but they proved too strong.
Two of the pit bulls died at the scene, but the third survived and was treated for gunshot injuries.
Police later said the dogs were only shot in order to "preserve human life".
The pit bull owner told detectives that his dogs were normally well-behaved and trained and would come when called.
#LAPD #SkidRow Cops shoot 3 pitbulls mauling a man and dog 5th &Stanford. 2 dogs dead one wounded. Man w/ multi bite wounds @KNX1070 @CBSLA pic.twitter.com/Md6jUAAmbb

— Pete Demetriou (@knxpete) May 10, 2017
He was not arrested and is said to be cooperating fully with the investigation into the attack.
A local business owner said the pit bulls lived on the grounds of a neighbouring business and were allowed to briefly run free each morning.
He said they would normally obey the commands of their owner.