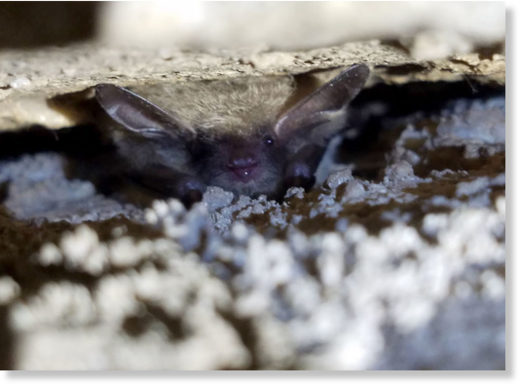 A winter survey of Missouri caves found an alarming decline in the population of a bat species once common across the state.
Surveys of more than 300 caves and mines earlier this winter found a total of seven northern long-eared bats, Shelly Colatskie, a cave ecologist with the Missouri Department of Conservation, said.

The species' decline accelerated in the past two years. Surveys of 375 caves and mines in 2015 found 2,684 northern long-eared bats.
Shauna Marquardt, a biologist with the U.S. Fish & Wildlife Service in Columbia, said the bats were absent this winter in numerous caves where they'd been seen before because of white-nose syndrome. The northern long-eared bat is especially vulnerable to the disease that has ravaged bat populations in parts of the United States.
Caves that used to have northern long-eared bats no longer had them, Marquardt said, "or there were only a few, or they were obviously in the throes of the disease, that they had visible fungus and they were emaciated."
Caves surveyed in Boone County included Rocheport Cave, Hunter's Cave in Three Creeks Conservation Area, Devil's Icebox in Rock Bridge Memorial State Park and Lewis and Clark Cave along Katy Trail State Park.
To protect bats, Colatskie said, the Department of Conservation does not release their locations. She did say they hibernate in caves across Boone County.
The species' decline is so significant that it could cause a "domino effect" by interrupting the food chain and other aspects of cave ecosystems, Marquardt said. The bats' disappearance might also increase nighttime pest populations, some of which prey on crops, she said.
White-nose syndrome is affecting northern long-eared bats through most of their habitat. According to the Fish & Wildlife Service, northern long-eared bats
live throughout the Northeastern and Midwestern U.S
. and parts of Canada. In the U.S., their range stretches from Maine to Montana.
Bats infected with white-nose syndrome have been found as far west as Nebraska,
though one was just discovered in Washington state.
Clusters of counties with infected bats have been found throughout Missouri, Pennsylvania and Tennessee.
Marquardt, who works on bat conservation and recovery for the Fish & Wildlife Service, said northern long-eared bats are the hardest-hit bat species in North America. She said the disease has also caused declines in little brown bats and tricolor bats.
The syndrome causes bats to wake up during hibernation, depleting their stored energy and causing them to die from starvation. Research on treatments to control the disease in caves continues, Marquardt said, but no effective solution has been found.
Kirsten Alvey-Mudd, executive director of the nonprofit
Missouri Bat Census
, surveyed 200 caves for her organization beginning in December. She saw two northern long-eared bats.
"They're taking a significant hit," Alvey-Mudd said, adding that the odds of finding more northern long-eared bats were "very slim."
There's a possibility that populations of the bat are living in caves that haven't been surveyed, Alvey-Mudd said, but the more likely scenario is that white-nose has killed them.
Threatened and endangered
Northern long-eared bats were
added to the state's endangered species list
by the Missouri Department of Conservation in March. They have been
listed as threatened
by the U.S. Fish and Wildlife Service since 2015.
Species listed as threatened under the federal Endangered Species Act are considered "likely to be at the brink" of extinction "in the near future," according to the Fish and Wildlife Service.
The federal designation means that no one can take or intentionally harm, harass, kill or capture northern long-eared bats.
Tony Elliott, Resource Science field station supervisor at the Missouri Department of Conservation in Clinton, Missouri, said the bats' state listing provides no protection beyond the federal designation. Rather, he said, the department's decision to list the species was to bring the state designation in line with the federal one.
The nongovernment group Center for Biological Diversity
believes the species needs additional protection, stating that northern long-eared bats face significant threats from activities such as logging, oil drilling and wind energy projects. A year ago, the center
sued the Fish and Wildlife Service
for permitting logging and other widespread destruction of the bats' habitat.
Tanya Sanerib, a lawyer for the center, said the case will most likely be resolved later this year.