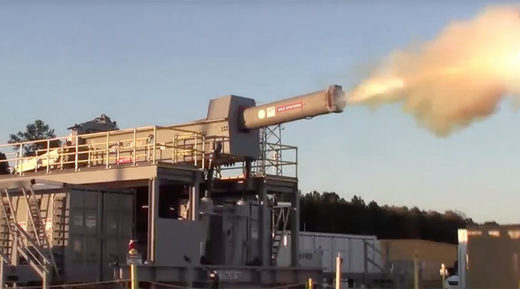 The US Navy has revealed a video of the first commissioning tests of a railgun, a futuristic weapon that many people hope could shift the balance of power in naval warfare away from aircraft carriers and back to surface warships.
The Navy has been pursuing the railgun for years, but the project has been hamstrung by the sheer amount of power required to make it work, measured in megajoules of electricity.
UK-based BAE Systems appears to have made an operational railgun, however, and test fired it at the Naval Surface Warfare Center in Dahlgren, Virginia in November 2016. A short video of that test was made public by the Office of Naval Research on Tuesday.
The railgun is designed around the principle of launching a metal projectile using a series of magnetic coils, rather than chemical propellant. Because of this, it is also known as the coilgun or Gauss rifle, after the German mathematician credited with discovering the concept in the 19th century.
BAE Systems tested a 32-joule half-power prototype at Dahlgren in 2013. The full-power version was scheduled for testing in mid-2016 aboard the USNS Trenton, a Spearhead-class expeditionary transport, but the schedule was pushed back to mid-2017 without an explanation.
Popular Mechanics
has speculated that the railgun might end up being installed on board one of the three ships in the Zumwalt class, the experimental super-destroyer with a power plant strong enough to operate the weapon. The recently commissioned USS Zumwalt has been experiencing difficulties with its 155mm Advanced Gun Systems, designed around the projectiles that
cost around $800,000 apiece
.