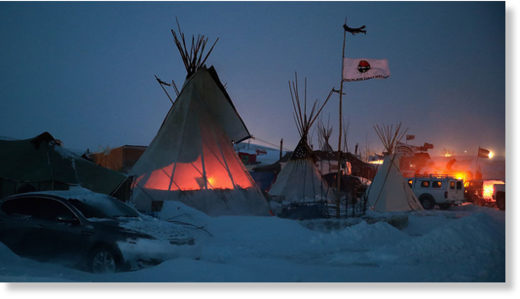 North Dakota's Republican Governor Doug Burgum has issued an emergency order for the Oceti Sakowin protest camp to evacuate the area immediately.
"Out of concern for the safety of people who are residing on US Army Corps of Engineers land in southern Morton County and to avoid an ecological disaster to the Missouri River," read a
statement
from the governor's office on Wednesday.
The camp has housed hundreds, sometimes thousands of Dakota Access Pipeline opponents who have spent several months protesting the pipeline.
Gov Burgum claimed he was issuing the order because of unseasonably warm temperatures that were accelerating the melt of heavy snowpack across the state. The other concern is the polluting of the Missouri River by months of accumulated debris, including human waste, generated by the activists which occupied the camp. The governor gave residents until the afternoon of February 22 to leave.
"With the amount of people that have been out there and the amount of estimated waste and trash out there, there is a good chance it will end up in the river if it is not cleaned up," Corps spokesman Captain Ryan Hignight told AP.
The camp has shrunk to a few hundred people as the battle over the $3.8 billion oil pipeline has moved largely to the courts. The Standing Rock Sioux tribe claims placing the pipeline under the Oahe Lake could contaminate water for millions of people if it leaked. The project builders, Energy Transfer Partners, argues the pipeline is safe.
The Standing Rock Sioux tribe has asked protesters to leave the area, and has been coordinating a cleanup operation at the campsite since late last month.
Local and federal officials think there is enough trash to fill about 2,500 pickup trucks. The governor said he was lining up additional contractors as early as Thursday.
"I don't want it to sit around and argue who's going to pay for it while we've got buildings floating down the Missouri River," said Governor Burgum.