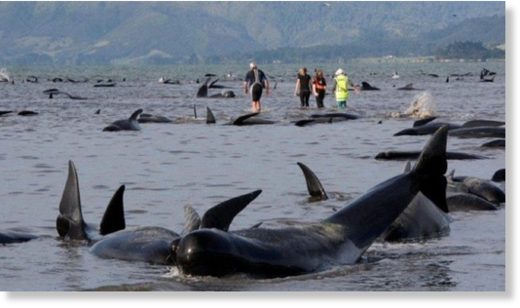 Just days after 416 pilot whales stranded themselves off New Zealand's South Island,
a second pod of 240 has swum aground at the same spot.
In total, more than 650 of the animals have stranded themselves along a three-mile stretch of coastline at Farewell Spit in the past two days.

About 335 of the whales are dead, 220 remain stranded and 100 are back at sea.
Andrew Lamason, Department of Conservation Golden Bay operations manager, said he was sure the latest strandings were a new pod because all of the refloated whales from the previous group had been tagged.
Hundreds of volunteers had flocked to the remote spot after the first group of whales were discovered in the early hours of Friday local time.
About three-quarters of that group were already dead when they were found.
One of the dead whales appeared to have bite marks consistent with that of a shark but Mr Lamason said there had not been any shark sightings.
The volunteers successfully refloated the surviving whales but many of them beached again that night.
On Saturday, the people braved the threat of sharks and stingrays to form a human chain in an attempt to encourage the whales to swim into deeper water and not to return to the bay.
Among the volunteers was Deb Ward, who hoped a lifting machine she and her husband have invented would help save as many whales as possible.
Mrs Ward, who lives in Auckland, told Radio New Zealand that she was inspired to create the machine after witnessing whale strandings as a child.
Meanwhile, local Maori have performed karakia (prayers) over the dead whales and officials are turning their attention to the task of disposing hundreds of carcasses.
Farewell Spit has been described as a whale trap, as its long coastline can be difficult for whales to navigate away from.
It is believed whales end up stranded as they try to escape predators, chase prey too far inland, or try to protect a sick member of their pod.
Department of Conservation ranger Mike Ogle told Radio New Zealand that the number of calves and mothers in the pods suggested that the stranding could also be linked to the seasonal migration.
Friday's stranding was the third-biggest in the country's history. The largest one on record was in 1918, when about 1,000 pilot whales came ashore on the Chatham Islands.