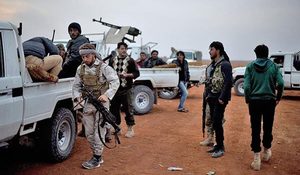 Fighters of the newly-formed Tahrir al-Sham Hay'at, mainly from Al-Nusra Front (recently renamed to Fatah al-Sham Front), are getting ready to engage in a fresh round of clashes with Ahrar al-Sham in Northern Idlib, local sources disclosed.
The sources said that Tahrir al-Sham Hay'at that includes al-Nusra Front and several other terrorist groups is getting ready to clash with Ahrar al-Sham near Bab al-Hawa border crossing.
They added that the newly-formed coalition has dispatched a large number of its forces to al-Saheh region near Babl al-Hawa, while Ahrar al-Sham and two affiliated groups of Jeish al-Islam and Tajamo Fastaqem Kama Amrat have deployed a large number of fighters in Bab Saqa and Bab al-Hawa.
The sources went on to say that Tahrir al-Sham Hay'at is about to take control of Bab al-Hawa border crossing that is controlled by Ahrar al-Sham.
Reports said on Sunday that the al-Nusra Front and several militant groups declared that they have decided to form a new coalition named Tahrir Al-Sham Hay'at to narrow down widening rifts amongst their commanders and members.
The Al-Nusra Front, Nouralddeen al-Zinki Movement, Jeish al-Sonah, Jabhat Ansaraldeen and Liwa al-Haq announced that they will act under a united coalition named the Tahrir al-Sham Hay'at.
The five merged terrorist groups will act under the command of Abu Jaber Hashem al-Sheik. Hashem al-Sheikh was one of the commanders of Ahrar al-Sham. The new coalition led by al-Sheikh is now against Ahrar al-Sham.
Al-Sheikh resigned from his post in Ahrar al-Sham after he was appointed as the commander of Tahrir al-Sham Hay'at. A number of Ahrar al-Sham's commanders, including the groups' spokesman Abu Yusuf al-Mohajer, Hesam Salameh and Abu al-Fatah al-Farqali Mesri have also joined the new coalition.
Terrorist groups' websites have claimed that Abu Mohammad al-Joulani will be the top commander of Tahrir al-Sham Hay'at.
Ahrar al-Sham has rejected its affiliation to the new coalition, but websites close to the terrorist groups have disclosed that Ahrar al-Sham, Faylaq al-Sham, Jeish al-Izzah, Turkistani party and Liwa al-Tamkin will soon start a new front called Tahrir al-Syria Front.
Nusra terrorists have been attacking positions of other terrorist rivals across Northwestern Syria.