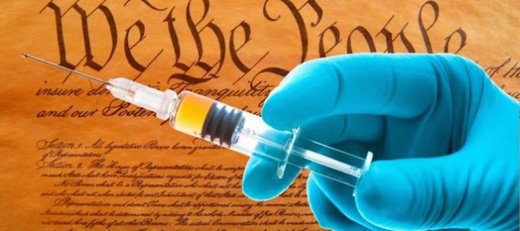 A group of plaintiffs represented by the non-profit A Voice for Choice, Inc. have filed a lawsuit challenging California's mandatory vaccine law, which eliminates personal and religious belief exemptions for students in public and private schools.
In the case
Love v. California
, plaintiffs argue that because public education is a fundamental right protected under the California Constitution,
"the state cannot force students to give up their constitutional right to refuse medical treatment, if they want to exercise their constitutional right to attend school."
A federal judge has scheduled what plaintiffs are calling a "critical hearing" for today, January 13 at 10AM PST in Los Angeles to consider the plaintiff's request to "enjoin Senate Bill 277," according to a
press release
from A Voice for Choice.
The lawsuit "hinges on the doctrine of Unconstitutional Conditions - that the government cannot force citizens to give up one constitutional right to exercise another," the plaintiffs say.
"For example, police can't force citizens to submit to metal detectors just to attend a protest. That would force citizens to give up their right to be free from unreasonable searches, just to exercise their right to assemble."
The controversial vaccine mandate requires kindergartners to receive 25 vaccines - including one that protects against a sexually transmitted disease - if they wish to attend school.
"Unlike previous suits, this lawsuit does not argue science or vaccines. Instead, it focuses on purely constitutional principles," said A Voice for Choice, which advocates for transparency and freedom of choice in regards to what goes into people's bodies, including air, food water and pharmaceuticals.
"This case raises real questions about where we as a society will draw the line when it comes to allowing governmental intrusions into our private lives,"
said Christina Hildebrand, founder of A Voice for Choice.
"At its core, a vaccine is just an injected, preventative form of medicine. Most Americans do not think the government should be able to tell us what medicines to take."
California is one of three U.S.
states
that prohibit religious and personal belief exemptions from vaccines. The bill, which went into effect January 1, 2016, requires children to
comply
with the U.S. Centers for Disease Control and Prevention's vaccine schedule if they wish to attend daycare and public and private school.