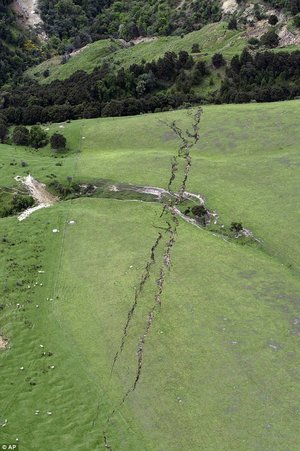 Civil Defence Minister Gerry Brownlee says a public statement about unusual seismic activity in the lower North Island is not a cause for alarm.
In a statement released this afternoon, Mr Brownlee said GNS Science had observed
"unusual activity involving patches of slow-slip activity''
between tectonic plates under the region.
"The heightened activity increases the uncertainty about the likelihood and size of future earthquakes,'' he said.
Mr Brownlee said the observations by GNS were a timely reminder for New Zealanders to be prepared for earthquakes.
Speaking to reporters at Parliament later, the minister clarified that his statement did not amount to a warning about future quakes.
"I just want to make sure that what we are doing is putting that information out there that it is advisable to be prepared.
"We're not creating alarm, we're just creating awareness.''
Since the November 14 earthquake near Kaikoura,
a series of simultaneous "slow-slip'' quakes have been observed in Gisborne, the Hawkes Bay, and Kapiti.
Slow-slip quakes move just millimetres at a time and are detected by GPS because they cannot be picked up by seismographs.
Mr Brownlee said GNS Science was still trying to understand what the slow-slip quakes meant for the region. The phenomenon had only been analysed in New Zealand for a relatively short period of 15 years.
"So what we're saying is 'Does this mean the risk is a little heightened?' And [GNS] is saying 'It would be prudent to restate the public [civil defence] messages'.''
It was also important for the Government to issue robust scientific information to stop "amateurs interpreting scientific information in a negative way'', Mr Brownlee said.
GNS has advised that it is extremely unlikely there will be an aftershock of similar scale or larger than the Magnitude 7.8 quake on November 14.
In a blog post published today, GNS scientist Laura Wallace said it was not known what impact the slow-slip events could have on future earthquakes.
Slow-slip quakes had been recorded in the lower North Island for 15 years, but not in multiple locations all at once,
she said.
"But we've never tracked slow-slip events after a large magnitude 7.8 earthquake, so this could [be] the normal pattern after a large quake.''
The exact risk of a future quake could not be calculated because the science slow-slip movement was still "in its infancy'', Ms Wallace said.