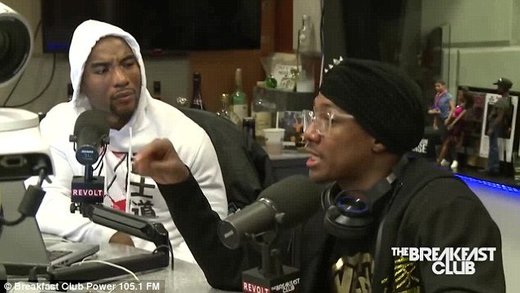 In a recent interview with
The Breakfast Club
radio show he called Planned Parenthood 'real genocide' against black Americans. And as he made his way through LAX on Friday, Nick Cannon stood firm on his statements against the organization while talking to
TMZ
.
'It's population control,' the 36-year-old said of Planned Parenthood, adding that it is 'modern day eugenics.' Nick also told TMZ that he was happy to elaborate on his comments, sharing: 'I can. It would take a long time though.'
Last week he had spoken about the issue while making an appearance on The Breakfast Club radio show. He began by sharing his distaste for presidential candidate Hillary Clinton, saying: 'Think about all the stuff they did with Planned Parenthood and all of that type of stuff.'
He added that the organization 'wasn't designed for our people.' Nick continued:
'That type of stuff is to take our community and - forget gentrification, it's real genocide. And it's been like that for years,' adding: 'This system is not built for us.'
The star, who is expecting a child with ex Brittany Bell - and shares five-year-old twins Monroe and Moroccan with ex Mariah Carey - has previously taken a stand against abortion. The music video for his 2005 single
Can I Live
told the story of how he was almost aborted before his mother changed her mind.
Planned Parenthood offers some services in addition to abortion, including STD testing, treatment, and vaccines, pregnancy testing and birth control. The organization has been targeted by pro-lifers and conservative Republicans in recent years who have sought to defund it.
Vice president-elect Mike Pence first introduced a bill to eliminate their funding as a member of Congress in 2007. The legislation failed but he has continued to push against Planned Parenthood. He has declared that as part of the Donald Trump administration he will seek to overturn Roe vs Wade, a move that would return control of abortion laws to the states. Since Trump's election victory, a social media campaign has resulted in more than 50,000 donations made to Planned Parenthood in Pence's name. Every time a donation is made, he receives a letter of thanks to his office.