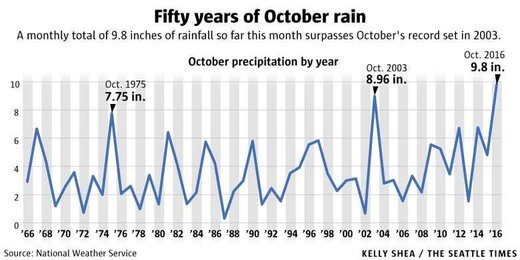 In October we got as much rain as we usually get in this month and the next — but November has just begun.
Weather gauges at Seattle-Tacoma International Airport measured a total of
10.05 inches of rain this month, the most ever for October.
The extended forecast for the Seattle area shows a chance of rain every day through Thursday.
The rain total for this month in the Seattle area first surpassed October's record — which was set in 2003 with 8.96 inches — on Saturday.
The heaviest rainfall for the month
occurred on Oct. 13
, when the city was drenched with 1.75 inches, according to the weather service. An additional 1.36 inches fell the
following day
.
Hoquiam also set a record Saturday morning.
And Olympia surpassed its record rainfall amount on Oct. 26.
According to the weather service, Seattle's wettest Halloween was last year, when the service recorded 1.3 inches of rain.