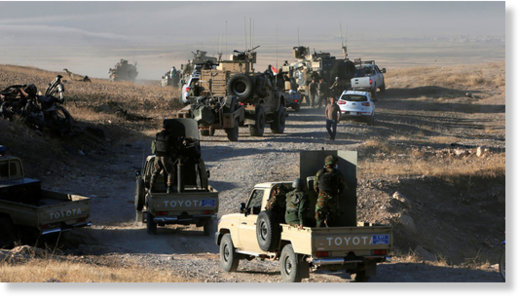 If Islamic State fighters are allowed to leave Mosul and go to Syria, Russia would take the appropriate military and political decisions, the Russian foreign minister warned.
"As far as I know, the city is not fully encircled. I hope it's because they simply couldn't do it, not because they wouldn't do it. But this corridor poses a risk that Islamic State [IS, formerly ISIS/ISIL] fighters could flee from Mosul and go to Syria,"
Sergey Lavrov said on Tuesday, commenting the ongoing siege of the Iraqi city.
"We will be evaluating the situation and take decisions of both political and military nature if this happens,"
he added.
"I hope the US-led coalition, which is actively engaged in the operation to take Mosul, will take it into account."
The coalition - which includes the air forces of several nations, primarily the US, and ground forces of the Iraqi government, Kurdish and Shiite militias and Turkish troops - is involved in the siege of Mosul, the Iraqi stronghold of IS. Lavrov pointed out that the coalition has internal rivalries, which may hurt the effort to liberate the city from IS, a goal that Moscow supports.
"The regional balance of power is affected by the rivalry over who would take Mosul on the ground. Would it be the Iraqi army? If so, would the Shiite troops take part? What part would the Kurdish militia play? What part would Turkey, which has an expeditionary force there, play with the Iraqi leadership protesting against it,"
Lavrov said.
"There are also some 5,000 American special operations troops, which Washington calls military advisers. Well, 5,000 advisers is a large number,"
he added.
The minister expressed Russia's concern over the looming exodus of refugees from Mosul, which, according to the International Committee of the Red Cross (ICRC) may reach as many as 1 million people. Lavrov said neither Iraq nor its neighbors currently have the capacity to accommodate such a large number of refugees and that this should have been a factor in the planning of the Mosul operation.
The operation comes amid
rumors
that the US and Saudi Arabia have struck a deal with IS to grant its fighters free passage out of Mosul on the condition that they relocate to Syria. Russia is using its Air Force in Syria on behalf of that country's government to fight terrorist groups like IS and Al-Nusra Front.