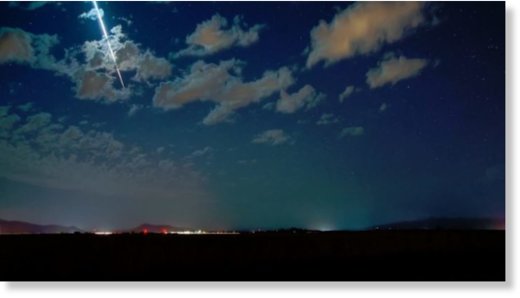 Wednesday night around 11pm FOX 28 received
several reports of a bright light flashing across the sky and "loud boom."
Multiple calls came into the newsroom and messages came in on our Facebook page with everyone who saw or heard it asking the same question: "What was that?"
Call it pure luck or call it talent
but one Spokane photographer happened to catch the "bright flash across the sky"
in a beautiful photograph. Tiffany Hansen says she loves shooting night scenes. Wednesday night, trying to photograph the aurora lights, which were happening that night as well, she stationed herself just north of Post Falls, ID but wasn't having any luck seeing them.
"I took one last shot and that's when the meteor happened
. It was big, very bright and moving super slow across the sky. It was one of the most amazing things I've ever seen
. I feel extremely lucky to have caught it on my camera," Hansen said.
Hansen took up photography as a hobby a few years back and has perfected her craft overtime. She especially likes landscapes and outdoor photography.