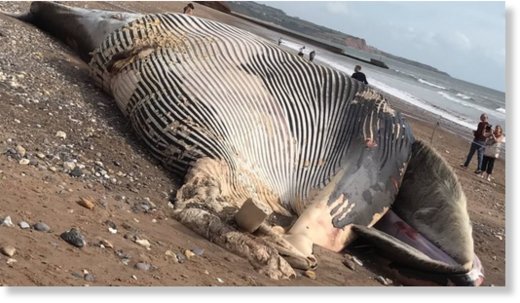 A dead whale has washed up on a Devon beach.
The whale - believed to be a fin whale - came ashore at Red Rock beach, between Dawlish Warren and Dawlish.
Members of the public are being warned to keep a safe distance from the carcass - thought to measure about 50ft.
Experts say the carcass is an endangered fin whale - the second-largest animal after the blue whale.
Fin whales are usually found in large numbers in the Bay of Biscay and their presence in British waters is a relatively new discovery.
It washed up ashore just after 8am and has attracted a large crowd of on-lookers.
Witnesses say the smell was pungent as soon as it hit the beach.
Onlookers have been lining the sea wall taking pictures and watching coastguard and council officials deal with the carcass.
It is now the responsibility of the local council to dispose of the carcass.
Teignbridge councillor Humphrey Clemens says meetings are being held to work out the best plan.
Vehicles can't access the beach so it will have to be towed at high tide to possibly take it to Teignmouth docks.
Rob Deaville, of The Zoological Society of London, said the key indicator it was a fin whale was the colour of markings on its jaw.
He works on the Cetacean Strandings Investigation Programme (CSIP), collecting data on strandings from around the UK.