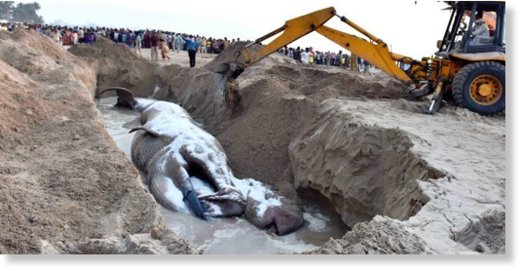 The decomposed carcass of a blue whale, estimated to be around 32-feet-long was discovered on Murud beach in Raigad district of Maharashtra.
This is the third dead whale to have been discovered on the coastline between Mumbai and south Maharashtra in September.
Researchers are working to identify the species of this one.
In all, 10 Baleen Whales
- a minor order of animals that includes blue whales, Bryde's Whales and Humpback Whales -
have beached in Maharashtra alone since June 2015.
Gujarat saw at least two stranding in May and July this year, one of which was a blue whale. At least one Bryde's whale has stranded in Kerala.
As the number of whale dying on the beaches have increased, researchers have been scrambling to understand what is going on
and to develop a protocol on how best to deal with them.
Earlier in August 14, the decomposed carcass of a whale, estimated was washed ashore at the Alibaug beach in Raigad district of Maharashtra.
Source: ANI