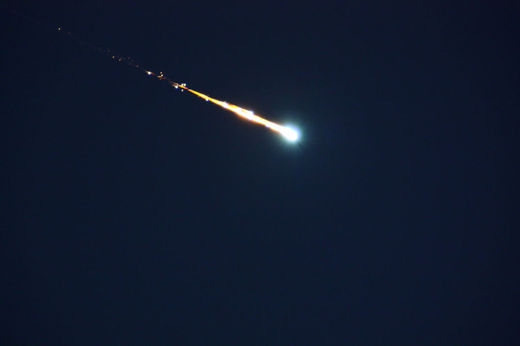 Initial Sighting Reports
August 29th, 10:55pm. While traveling on Hazeldean Road between Bells Corners and Eagleson Road in Kanata, Ontario, Canada. I glanced to the South and was shocked to see a huge lime colored ball of light shooting toward earth, perhaps at a 25 degree angle, traveling from East to West. As it came closer to earth, it quickly vanished. It was over within a few seconds I imagine.
Frankly, I always thought these things were the color of stars. Learn something new every day.
Thank you, Susan
8:27 pm. I am quite sure we may have seen the exact same meteor! I was looking out my window last night from Grimsby, Ontario. I have a wonderful elevated view of the lake from this window and for only a second or so saw a bright bluish light streak across the sky, but only for a second.
I saw lights from a nearby plane in the area (probably going into Toronto), but I was also thinking it could have been flares from another search and rescue on the lake. But there were no other lights and no glowing from a flare. To me it seemed to be traveling south to north, but I could be wrong because it was so brief, but definitely was in my northern sky.
Glad to read I was not seeing things!- Slick Demetrius