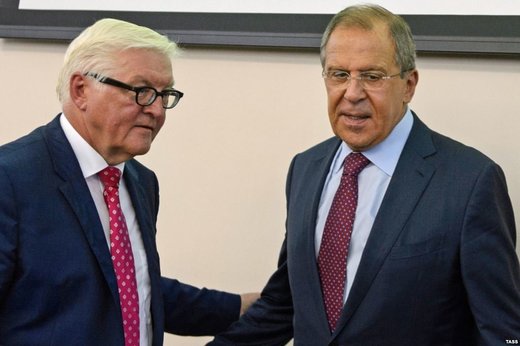 Russian Foreign Minister Sergei Lavrov and German Foreign Minister Frank-Walter Steinmeier have held talks in the Russian city of Yekaterinburg that focused primarily on Ukraine and Syria.
Speaking to reporters after the August 15 meeting,
the two ministers affirmed their support for the Minsk process
aimed at resolving the conflict in eastern Ukraine.
Lavrov said
Moscow is prepared to provide "irrefutable" evidence of an alleged plan by Kyiv to launch sabotage attacks in Crimea
, the Ukrainian region that Moscow annexed in 2014.
Moscow
does not plan to sever diplomatic relations with Ukraine
over the incident, saying that doing so would be "an extreme measure," Lavrov added.
Ukraine has denied any involvement in or knowledge of such a sabotage plot.
Steinmeier said the worsening situation in Ukraine in recent weeks is "worrisome" and called on both Moscow and Kyiv to investigate the alleged sabotage plot.
On Syria,
Lavrov said a cease-fire in the area around the city of Aleppo is needed, but that first "it is necessary to deal with the issues of the fight against terrorists."
He accused rebels fighting against the government of Syrian President Bashar al-Assad of using short-term humanitarian truces to regroup and of using humanitarian corridors to bring additional fighters and weapons to the conflict zone.
Comment:
Specifically, Lavrov said:
"The main issue is not that there's anyone unwilling to alleviate the humanitarian situation, but it is of utmost importance that terrorists would not be getting reinforced with militants, guns and munition supplies under the humanitarian aid disguise," Lavrov said

"The main results of those pauses was an insignificant relief in the humanitarian situation, while terrorists added 7,000 people to their ranks, not to mention huge amounts of arms and munitions they received," he said.
In response to talk of humanitarian airdrops to Aleppo, he
pointed out
the obvious: "those who will take up this task will have to coordinate their actions with the [warring] sides,
primarily with the Syrian government
." Steinmeier even raised the danger of airdrops landing in the hands of terrorists.
Before his meeting with Steinmeier, Lavrov had told journalists that Russia was not to blame for strained relations with Berlin.
"We are paying top-priority attention to relations with Germany and it is not our fault that they are enduring a difficult period," Lavrov said.
Comment:
At the actual meeting, Lavrov said
this
: "Germany is our key partner, not only in European affairs, but also in tackling the global challenges of today, including conflict resolution, combatting international terrorism, and extremism." So, who do you think he blames for their bad relations if not Germany itself?
The position of EU powerhouse Germany has been crucial to keeping sanctions in place against Russia over its interference in Ukraine.