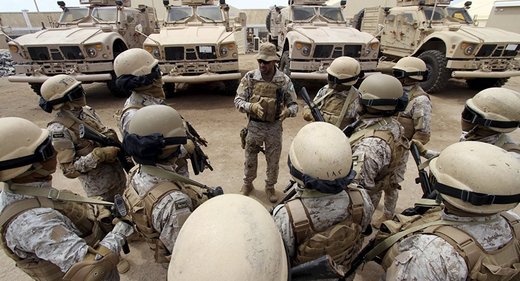 The Saudi-led coalition will continue its operation in Yemen till the end of the insurgency against the country's legitimate government, Saudi military spokesman Brig. Gen. Ahmed Asiri said Sunday.
"Campaign on Saudi borders has no military goal. Arab Coalition [in Yemen] will continue until the militias working against legitimacy [of the internationally recognized government of President Abdrabbu Mansour Hadi] end in Yemen,"
Asiri was quoted as saying by the Al Arabiya news channel.
He accused the Yemeni Houthi Shia rebels of violations of the Saudi border, adding that the kingdom would not accept any border violations. Asiri also called on the international community to "determine the fate" of peace talks between the warring sides in Yemen.
Since 2014, Yemen has been engulfed in a military conflict between the government headed by Hadi and the Ansar Allah movement, also known as the Houthis, which is the country's main opposition force. The Houthis are backed by army units loyal to former Yemeni President Ali Abdullah Saleh.
Since March 2015, the Saudi-led coalition of mostly Persian Gulf countries have been carrying out airstrikes against the Houthis at Hadi's request despite a ceasefire agreed in April.