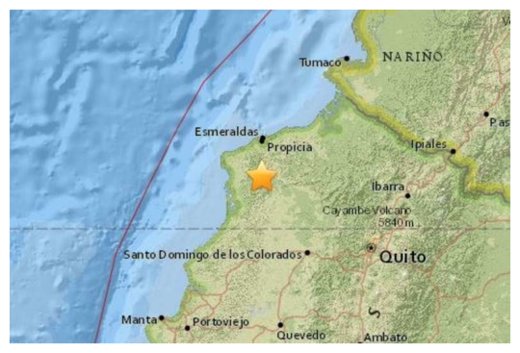 Two powerful quakes measuring 5.9 and 6.4 struck the coast of Ecuador ten minutes apart,
USGS reported.
Both quakes hit an area about 32 kilometers northwest of Rosa Zarate, a town of some 60,000 residents in the Esmeraldas province.
The tremors from the two quakes were felt across a wide area and prompted many people to flee into the streets, according to BNO news. Residents reported power outages in some parts of the province. No reports as to the number of casualties were immediately available.
No tsunami warning has been issued.
Local authorities in Esmeraldas said they were suspending school activities until further notice.
The country's president Rafael Correa urged people to "remain calm".
Ecuador sits on the Nazca seismic plate region and has experienced a few powerful earthquakes this year already.
On April 16, a 7.8 magnitude quake rattled the country causing the deaths of at least 661 people. Over 27,000 others were injured across a number of provinces that were devastated by wide-spread destruction. A state of emergency was declared as over 13,000 military personnel and police officers participated in recovery operations.