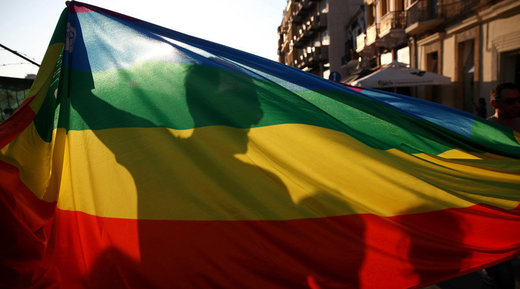 From New York to California, cities are increasing security in preparation for upcoming gay pride parades in order to prevent another bloody rampage like the one in Orlando.
In the aftermath of Sunday's massacre, in which 49 people were killed at a gay nightclub called Pulse, Republican Illinois Senator Mark Kirk has asked for the FBI office in Chicago to help the city ensure
"the maximum security possible"
for its 47th Pride Parade on June 26, as well as preceding events during this weekend's two-day pride festival.
The city is going to deploy 200 additional uniformed and plainclothes officers to maintain security during both the Parade and the PrideFest.
"We're partnering up with our other city agencies and our partners in law enforcement, just to ensure the safety of visitors to any major event that takes place in Chicago,"
officials said at a news conference, according to Chicago Sun Times.
Police Superintendent Eddie Johnson has stressed that the security ramp up is
"mostly being done in an abundance of caution"
and that there is
"no intelligence or threats against the LGBTQ community."
"But you will see an increased uniformed presence at these events in the 19th district and the surrounding neighborhoods, as well as the CTA hubs,"
he said.
Parade organizers are also providing additional security at the city's request, the Associated Press reported. This year, they are hiring 160 off-duty police officers and other security professionals.
Nearly one million people have attended the pride parades in Chicago in previous years, and some 750,000 people are expected to gather for the four-mile pride parade that will run through Uptown and Lakeview this year.
"This year's parade will take on a special meaning, as we honor the Pulse community, family and friends of those who lost their lives in Orlando,"
Chicago Commission on Human Relations Chairman Mona Noriega said in a statement.
Security will be tight in Denver, Colorado as well, where 300,000 people are expected to walk in honor of the LGBT community.
"We're making security a top priority,"
Debra Pollock, CEO of GLBT Community Center of Colorado, said, as cited by AP.
Ahead of this weekend's parade, GLBT members received special training on how to deal with active-shooter situations.
Earlier this week, Pollock said that the organizers will have metal detectors, and fences will be set up near the rally. Security will be boosted along the parade route as well, and people should be prepared to be searched.
In the meantime, Houston law enforcement is on edge over a threat that appeared on Twitter just days ahead of the June 25 parade.
"There will be a massive shooting at the pride parade in Houston, Texas,"
Twitter user crehgdu123 posted on June 13.
On June 14, Pride Houston, Inc. tweeted that the threat
"was to an individual,"
and not to the parade.
However, acting Police Chief Martha Montalvo said the department has been investigating the suspicious message.
"We take all threats seriously and we are investigating it and we have notified and are working in conjunction with the FBI,"
she said.
"But at this point I don't have anything solid in terms of specifics."
The city of Portland, Maine also has security concerns surrounding its upcoming Pride Parade, which is scheduled for Saturday.
As the city is in the middle of 10 days of pride celebrations, Chief Michael Sauschuck said the
"harsh reality of life in 2016"
is forcing the community to
"maintain a high level of vigilance during any and all public event."
According to local NBC-affiliate WCSH, Mayor Ethan Strimling
reported
that police have been coordinating with event organizers.
Increased police presence in and around pride parade celebrations is also expected in San Francisco and Seattle, where events are scheduled for June 25 and 26.
New York City is bracing for what is predicted to be its largest gay pride parade ever this weekend.
"We will probably have, somewhat as a result of this event, the largest gay pride parade in the history of the city,"
NYPD Commissioner Bill Bratton said on MSNBC's Morning Joe.
The NYPD has tweeted on its official page that it has
"no security concerns,"
but police presence in Manhattan is going to be increased.
Hours after Omar Mateen killed 49 people at a gay nightclub on Sunday, an Indiana man was arrested on his way to a West Hollywood gay pride parade when police found him in possession of explosives and firearms that are legal in his home state, but not in California. James Wesley Howell told police that he didn't intend to harm the event, but Santa Monica Police Chief Jacqueline Seabrooks tweeted out the opposite, before the tweet was corrected some nine hours later.