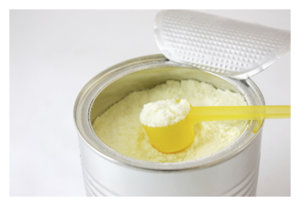 Nanoparticles with potential health risks have been detected in popular powdered baby formula products.
This is based on new research conducted on behalf of Friends of the Earth.
With the study, scientists discovered several unmarked and non-regulated nanotechnologies in six out of six baby formulas examined.
These products included well-known names like Gerber (Nestle), Enfamil (Mead Johnson), Similac (Abbot Laboratories) and Well Beginnings (Walgreens.) The study was
performed at
the Institute for Health Policy Studies at the University of California, San Francisco.
The particles of concern are nano-hydroxyapatite, which was present in needle-like and non-needle-like forms; nano titanium dioxide; and nano silicon dioxide. At the nanoscale, the physical, chemical, and optical properties of familiar substances differ from those of the same substances in larger particle form.
Of most concern to the investigators were the particles with 'needle-like' structures. This is because such artificial particles could, in theory, breakthrough cell walls.
In a statement
, Ian Illuminato, who is the health and environment campaigner with Friends of the Earth voiced concern with nanotechnology and who is it is regulated. He states: "This technology is moving from the lab to the marketplace without sufficient regulation, safety assessment and labelling."
Illuminato went onto say: "It's of real concern that these tiny particles are used in hundreds of consumer products, and now in infant formula, with minimal to no oversight." In doing so, he called upon global food standards agencies to introduce tighter regulation. This is primarily directed towards the U.S. Food and Drug Administration (FDA), given that the products tested were all from U.S. manufacturers. A letter, outlining the points of concern, has been
sent to the FDA
.
Central to the Friends of the Earth concerns are because few health impact studies have been carried out, and the longer-term effects of such food additives are unknown. The environmental organization notes there is a clear 'research gap.' The organization is particularly concerned that material, from which there is only limited information available, is being used in food products intended for babies. There is also a secondary concern raised about food factory workers, who handle such materials.
The findings are
detailed in a new report
titled Nanoparticles in Baby Formula: Tiny new ingredients are a big concern," which is published by Friends of the Earth.