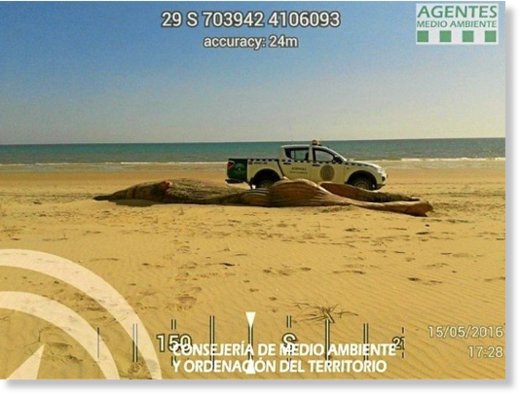 Another whale beaches on the beach of Matalascañas in Huelva
Following the discovery
last week of a live whale calf on the beach of Punta del Moral
in Ayamonte, in the province of Huelva (Andalucía), a second beached whale was found on the Atlantic coast on Tuesday in Matalascañas, around a hundred kilometres further east.
The animal, which measured 9.5 metres in length, was found dead on the beach of Asperillo, and despite the fact that this incident occurred so close to Ayamonte and such a short time afterwards the Department of the Environment in the regional government reports that there is no reason to conclude that there is any relation between the two deaths.
The responsibility of removing the dead whale from the beach lies with the Town Hall of Almonte.