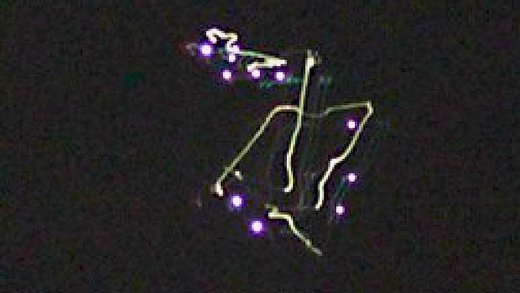 Edmonton's fascination with flat, round objects doesn't stop with pizzas. Sure, the city came in eighth in the battle for the world's best pizza, but the
Canadian UFO Survey
released this week says Edmonton had the fourth-highest sightings of UFOs of any city in Canada. The city followed Montreal, Toronto and Vancouver.
Among the provinces, Alberta also came fourth. Of
Canada's 1,267 sightings in 2015
- the second-highest number on record-, Quebec had a whopping 450 , Ontario 314, and 224 in B.C. By comparison, wild rose country had a paltry 101 reported UFO sightings last year.
(Apologies for the language in the following videos.)
Edmonton's 36 UFO reports included orange and green orbs, blinking red and white and fuzzy lights moving across the sky, a "large blurry cloud," and a "bright round light," moving slowly, which "seemed to flatten in shape." On May 12 last year, a "large green fireball" broke into six pieces and mysteriously disappeared in the city. About a month later, on July 20, "several discs" in the sky "appeared to change colour and come in and out of focus." That report was one of only a handful accompanied by photos or video.
The survey was compiled by
Canadian-based Ufology Research
, which gathers sightings "to provide data for use by researchers trying to understand this controversial phenomenon." Like
Saskatchewan, Manitoba, Nova Scotia and Newfoundland, Alberta had more reported UFO sightings this year than last.

Before you get excited about a visit from alien friends or foes, only 12 per cent of all UFO reports were classified as "unexplained" phenomenon. The number of reported UFOs here did not, unfortunately, bring Alberta onto the list of Most Interesting Canadian "Unknowns" in 2015. You'll have to look east to Saskatchewan or west to B.C. to find those.
Take a January incident in the town of Lumsden, Sask., in which several aircraft reported "a very large object with a small white light in the middle, surrounded by a halo, moving northbound in the vicinity" of the community. About a month later in Vancouver, someone reported a "strange object" which "appeared to be a cliché flying saucer" floating above the roofs of highrise apartments.
2015 sightings in Al
berta
- Jan. 7: Oscillating sound heard outside for 10 seconds, no lights seen
- Feb. 28: Light in sky making erratic movements
- April 9: Triangle object with lights seen in sky, flying at the speed of a large plane
- April 29: Bright round light moving slowly seemed to flatten in shape
- May 12: Large green fireball that broke into six pieces and disappeared
- May 14: Eight round orange objects moving across sky
- June 22: Bright light seen through clouds that flashed three times as it ascended higher
- July 20: Several discs in sky appeared to change colour and come in and out of focus (photos)
- July 25: Glowing yellow light flying in and out of clouds
- August 23: Lights in sky shaped like a goblet, spread into a semi circle then faded
- August 24: Small dark object captured on film during air show, appeared to be following one of the planes
Sept. 17: Bright light in sky that appeared to have small craft coming out of it
- Oct 11: Three orange lights in a triangle shape
- Oct. 31: Object in sky had three square lights in a row, had an aura of white light flying in a crooked path
- Nov. 3: Small green orb zipped through yard, had a tail
- Dec. 1: Metallic shiny object in sky