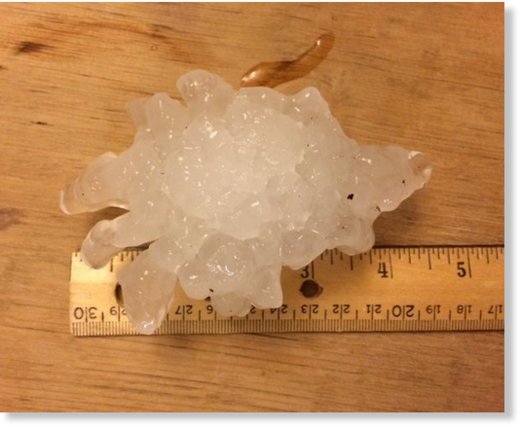 For the second day in a row, a major hail storm slammed parts of Texas Tuesday, causing widespread damage across the state.
The National Weather Service received over 30 hail reports from the Lone Star State Tuesday, ranging from 1" to 3.5" (bigger than baseball-size).
"High CAPE values and steep lapse rates allowed for the formation of very large hail in Texas over the last two days," explains Weather Network meteorologist Dayna Vettese. "CAPE is 'Convective Available Potential Energy', which is the energy available in the atmosphere for storms to use. Lapse rate is a term used to describe the temperature change as you going up from the surface into the atmosphere. The bigger (or steeper) that temperature change, the stronger the rising motion in the atmosphere. In order for large hail to form, you need strong rising motion; strong enough to keep hail stones suspended in the air long enough to grow large."
The storm was part of an ongoing system that's been slamming the Texas and the Gulf States with heavy rain and strong winds for the last couple of days.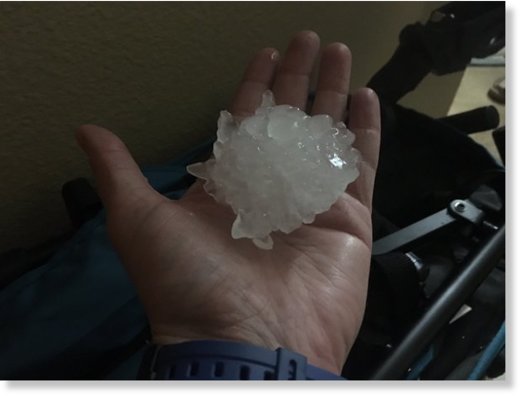 The city of Wylie, located about 28 miles northeast of Dallas, was among the hardest-hit areas on Monday.
The National Weather Service said there were reports of nearly softball-sized hail. Windows in cars and homes were destroyed -- and several solar panels were damaged.

The damage was so widespread, Wylie's school district canceled classes Tuesday because damage was so widespread, CNN reported
.
In Flowood, Mississippi, heavy rains caused part of the roof at Jackson Prep school to collapse on Monday, CNN reported.
Surveillance video showed water rushing through the ceiling, flooding the hallway.
No one was injured, but the school was dealing with major damage to the lobby and gymnasium, according the news network.
On Wednesday, storms will be centered mainly around the southern Louisiana to the Florida panhandle. A few inches of rainfall will be possible for some areas, and flooding remains a localized concern.