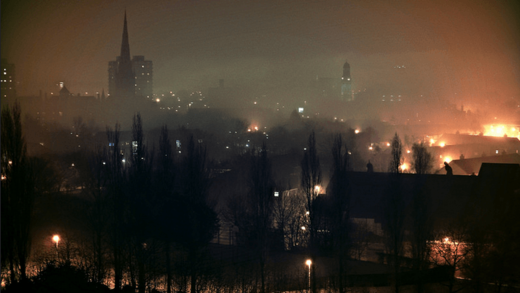 Over the past week SalfordOnline.com has been contacted by numerous readers being woken in the early hours of the morning by unusual mechanical sounds.
There's loud, grating clanks lasting for a couple of seconds at a time but repeated every 15-20 minutes.
Then there's the sound of gas under pressure - possibly being released. The earliest they've been heard is around 2am, and the latest at around 4am
, in Weaste, Seedley and areas around Salford Royal hospital, but also as far away as Swinton and MediaCityUK.
Salford City Council said their Environment team had received multiple complaints in the last seven days about early morning noise, but that inspectors had not been able to trace what was causing such sounds.
Video capturing the middle-of-the-night noises has been posted in the SalfordOnline.com Facebook group
here
and
here
.
On 29 March Paul Boon wrote: "It's 3:39am is anyone hearing a really loud, noise from the Eccles area about every two minutes which is eerily mechanical in nature?" It's driving some to absolute distraction.
But the source of the noise has been impossible to pin down. "Every time we heard the noise you could feel the vibrations through the house," said one Grange Street resident. This audio - most audible towards the end of the clip - captures the strange sound.
And readers were quick to flock to Twitter to say they'd heard the noises too.
@SalfordOnline I live further than that and it's incredibly loud next to me.We lookd out window & thought it was the bread factory vents
— Kelsi Clark (@kelsi1204) March 30, 2016
In October 2015 Bowlers nightclub on Trafford Park was served with a
nuisance notice order
.
At the time Councillor Gena Merrett said: "It is not fair that people should have to put up with loud thumping noise when they are trying to sleep." The venue held a Bass Music, Old Skool, Tech House, UK Garage festival on Sunday 27 March from 7pm until 5am on Easter Monday - but Salford City Council had not received any noise complaints about the venue in the last week.
@SalfordOnline Its about 2am I live in Weaste and It's loud!
— Paul Boon (@Boon_Dog) March 30, 2016
@SalfordOnline yep I live near Weaste Cenetry and it wakes me up thought I was the only one .
— mike.k (@kiernanmb) March 30, 2016
@SalfordOnline woke me every nite was going to ring council sounds like pressurised gas being released really loud near buille Hill Park
— jackie peachment (@JPeachment) March 30, 2016
@SalfordOnline I heard a weird noise at 2.20am in Swinton but couldn't work out where it was or what it was.
— Helen Brown (@helbr) March 30, 2016
Suggestions on the SalfordOnline.com Facebook group include workers cutting masonry on Wilton Road, roadworkers sandblasting the walls of the M602, and gas being vented from machinery at Salford Royal hospital's A&E department.
In a statement Salford Royal hospital's estates team confirmed to SalfordOnline.com that work is ongoing on site, but say that it finishes at 5pm, so it can not be attributed to them.
One local resident who lives on Stott Lane says he's been hearing the same sound "for years". "The hospital always deny it but myself and my elderly neighbours are sick of it, it's very loud and no-one owns up to it. I spoke to the security guys last night and they said they would look into it."
The sound certainly appears to be different to that of Manchester's Beetham Tower famously 'howling' in the wind.
Salford City Council are due to come back to us with a further statement as their investigation continues but for now the mystery goes on. If you captured this audio or have a better explanation please let us know @salfordonline or find us on Facebook.