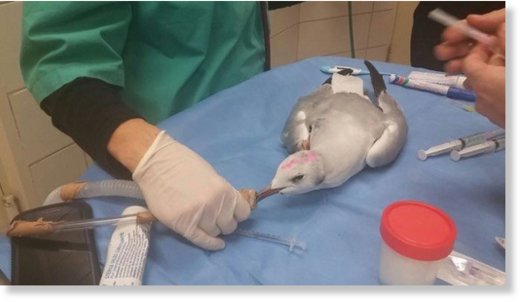 Hundreds of seagulls have been found dead on the Sea of Galilee's western shore, with an initial inquiry pointing to botulism poisoning.
Another 78 injured birds were given emergency first aid at the Tel Afeq National Park veterinary hospital's quarantine station in Tel Aviv, with some being tested to eliminate any suspicion that they
may
have contracted bird flu, the Walla website reported Thursday.
The gulls were subsequently transferred to the wild animal hospital at the Ramat Gan Safari, some of them in serious condition.
Botulism spores are commonly found in soil and water. They produce the botulinum toxin in conditions such as low oxygen and hot temperatures.
"It's not a sight that we are used to," a spokesperson for the Safari said. There had been cases of 15 animals needing treatment, but 80 in one go was "a real mass attack."
The treatment would continue for several days in the hope that the gulls could be returned to nature as quickly as possible, the Safari added.
Dr. Roni King, chief veterinarian for the Israel Nature and Parks Authority, said botulism poisoning was a known phenomenon. There had been cases in the US of hundreds of thousands of dead birds being found in lakes.
Less than two months ago in Israel, a smaller number of gulls sustained poisoning in the Hadera area of the Mediterranean coast.
A few years ago, 150 birds were picked up from the beach between Acre and the Krayot, north of Haifa, of which only 50 survived.
In the current case, the poison was not from the Sea of Galilee, King said. The birds probably picked it up at their feeding site, only feeling the effects when they flew back to the lake.