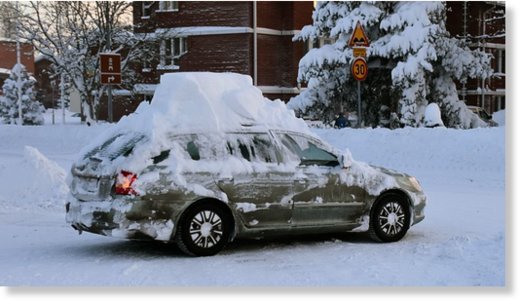 The western municipality of Merikarvia shoveled its way into history books on Saturday with a new Finnish record for snowfall in a single day. Local residents were in high spirits because of the chance notoriety, despite the wintry chaos.
The inhabitants of the municipality of Merikarvia in Western Finland were stunned overnight when their town became the site of a new Finnish record. At 8 am Saturday, meteorologists measured that
more than 70 centimetres of snow had accumulated in a single 24-hour period, or close to two and a half feet.
Thankfully the white stuff was the light and fluffy kind, and not wet and slushy, as heavy snow drifts in such quantities can potentially cause significant damage.
"It was astonishing!" local Sirkka Puolitaival says. "But we had to believe it when nearly a metre of snow piled up on our outdoor trash cans."
For Puolitaival and many others, the snow work resulting from the record-breaking blizzard gave them a real workout.
"I'm sweating through my clothes; there's no need to visit the gym. If only I could dig out our garage and get my skis!"
Spirit of giving
The Finnish Meteorological Institute's official measurements place the snowfall at 73 centimetres in a single day. Cars were stuck in huge drifts,
leading to a need for joint efforts in uncovering the buried vehicles.
Olli Ojamo was one of the people helping with the digging and towing, commenting that the massive amount of snow brought out the best in the community.
"Nature cooked up a little surprise for us, but we here in Merikarvia focused on the essential and just got on with it," Ojamo says. "Differences disappeared and everyone pitched in. It felt really, really good."
The public areas of Merikarvia will not be fully cleared of snow for several days.
"It's going to take more than just the weekend, even though we're pulling long shifts," says snow plough operator Kristian Kuusinen.