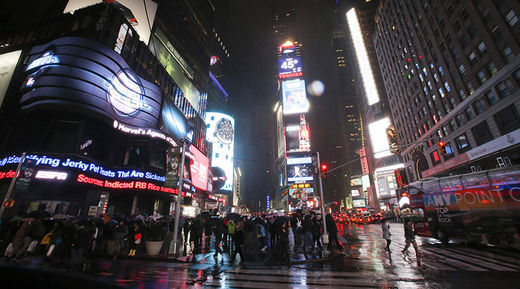 Islamic State has released a new video threatening attacks on New York - the footage shows images of Times Square, crowds of tourists and a suicide bomber making an explosive vest and apparently preparing for an assault on the 'Big Apple'. Trends
France terror attacks
The five-and-a-half-minute video starts from horrific scenes from the recent Paris attacks and various recordings of French President Francois Hollande speaking about military operation against Islamic State (IS, formerly ISIS) jihadists.
French- and Arabic-speaking fighters are heard praising the attacks which killed at least 129 people in the French capital on Friday.
At the end of the video a suicide bomber is shown making an explosive vest, putting it on and zipping up his jacket. The next shot is a new location: a crowded Times Square, Herald Square and two midtown Manhattan crossroads in a New York still hurting from the 9/11 attacks of 2001. The militant is seen holding a trigger and the video suddenly goes blank.
On Wednesday, New York police confirmed they are aware of the IS footage and though "there is no current or specific threat to the City at this time," New York "will remain at a heightened state of vigilance."
Among the interviewed jihadists is a small boy with fire in his eyes who congratulates his 'brothers' on this "blessed operation," referring to the massacre in Paris on Friday. He claims that these attacks are only the
"start."
"While some of the video is not new, the video reaffirms the message that New York City remains a top terrorist target,"the NYPD
said
in a statement.
According to SITE (Search for International Terrorist Entities) Institute director Rita Katz
, the footage of New York shown in the IS video "was taken from a video released by the group in April of this year."
"So while NYC is, and has been, a target for ISIS, today's video does not warrant any kind of panic," she told
Reuters
.

Comment: This statement is disingenuous at best: the "threat" is already out of the bag and the fear ramped-up to the extent that it can be.


All 35,000 police officers in New York are working hard to keep the city safe from another attack, Mayor Bill de Blasio said.
"Just in this last week, we've initiated the first wave of our new Critical Response Command, which will grow to 500 officers specifically dedicated to anti-terrorism activities.
"