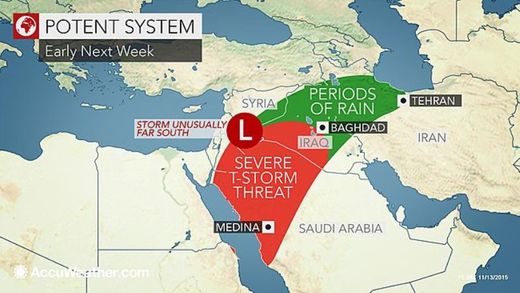 The threat for severe weather will dip unusually far south into the Middle East early next week.
Residents across northern Saudi Arabia, southwestern Iraq and eastern Jordan are being put on alert for potentially violent thunderstorms.
The danger will shift northwest to southeast across the threat zone from Monday into Tuesday. Tabuk and Medina, Saudi Arabia, and Najaf, Iraq, are among the cities at risk.
"On Tuesday, the severe threat will become more spotty in nature from Medina on south," stated AccuWeather Meteorologist Rob Richards.
"Damaging wind and flooding rain will be the main threats from any severe thunderstorm," Richards said. Hail cannot be ruled out.
Richards added that the impending
severe weather danger in this part of the Middle East is rather unusual
and will be triggered by a storm system that is diving farther south than normal.
"Typically, [the areas at risk] are dry most of the time and at most, any severe thunderstorm is spotty," he said. "However, we could see a squall line [of damaging thunderstorms] develop early next week."
Periods of rain will develop north of the severe weather from Baghdad to Tehran and will persist into midweek.
"Localized flooding may occur, especially in and around the mountainous terrain," Richards said.