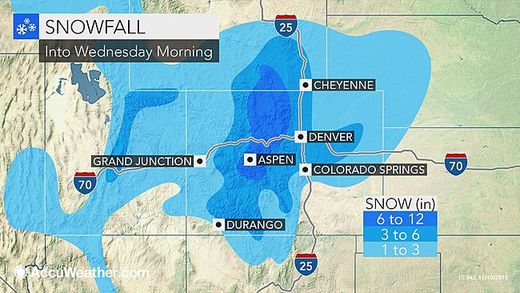 The combination of snow and strong winds will set the stage for white-out conditions from eastern Colorado to southeastern Wyoming for the Wednesday morning commute.
According to AccuWeather Senior Meteorologist Matt Rinde, "A typical early season storm developing over the Rockies will strengthen rapidly as it moves into the Plains, bringing snow and a brief period of blizzard conditions." "Blowing and drifting snow will cause significant travel problems," AccuWeather Meteorologist Becky Elliott said.
Areas around Denver, Loveland and Fort Morgan, Colorado, and Cheyenne and La Grange, Wyoming, are among those at risk for several hours of blinding snow and dangerous travel on Wednesday with the worst conditions first thing in the morning.Blizzard conditions can also develop across portions of the Nebraska panhandle, including the cities of Scottsbluff and Sidney.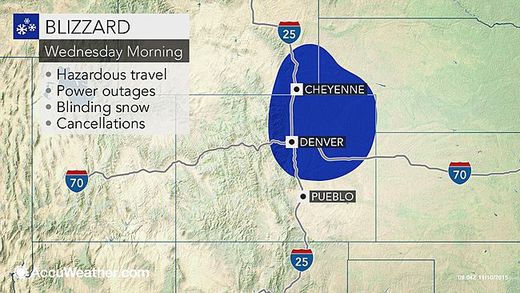 Snow totals will generally be between 1 to 3 inches across the area into Wednesday morning. Much higher amounts will occur across the foothills and Colorado Rockies.The strong winds can knock down trees and power lines leading to power outages.Anyone traveling in this area, including Interstates 25, 70, 76 and 80 should leave earlier than normal to allow yourself extra time traveling on the slick roadways.
Maintain a safe distance behind any snowplows and refrain from passing a snowplow. While snowplows travel at a low speed, the road conditions ahead of the plow could be very dangerous and could cause your car to lose control.Should you lose control of your car, never leave your car and find help. Use your flashers, stay in your car, and call 911.
"Take a lot of extra time if you need to travel on Wednesday and be sure to check the status of your flight before heading to the airport," Elliott said.Major delays could take place at the Denver International Airport as well as the Cheyenne Regional Airport.Be sure to bundle up if you have to head outdoors as AccuWeather RealFeel Temperatures will be in the 10s and 20s Fahrenheit for most of Wednesday.
"Fortunately, this storm will move away quickly enough to mitigate any long-term effects," Rinde said.According to AccuWeather Meteorologist Steve Travis, "Snow will diminish through the day Wednesday with winds gradually subsiding."
While the Front Range will face white-out conditions, this storm system will bring the threat forsevere thunderstorms from Texas to the Midwest on Wednesday.A stretch of dry, less windy weather will return across the Front Range on Thursday and last through the weekend.High temperatures will moderate into the 50s and 60s by the weekend, melting all of the snow that fell this week.