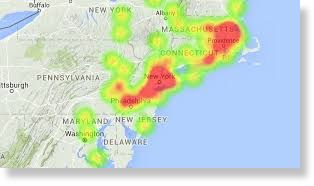 If you saw a bright objects race across the sky between 9 p.m. and midnight yesterday, you're not alone.
Some took to the internet to post reports about fireballs passing overhead.
According to
eyewitness reports
on the
American Meteor Society
(AMS) website, the fireballs ranged from yellow and orange to green.
A fireball is another term for a very bright meteor, according to the American Meteor Society (AMS). AMS says "several thousand" fireballs occur each day, but they are rarely seen.
"The vast majority of these, however, occur over the oceans and uninhabited regions, and a good many are masked by daylight. Those that occur at night also stand little chance of being detected due to the relatively low numbers of persons out to notice them," a fireball FAQ from AMS notes.
The fireballs could be from the Taurid meteor shower, which runs until Nov. 10, according to the American Meteor Society's Robert Lunsford. Unlike the prolific Perseids, the Taurid shower is known for the vividly colored fireballs it produces, he said.
"Occasionally there are more Taurid fireballs than normal. 2015 may be such a year," Lunsford said. These increased numbers of fireballs are due to the fact that the Earth encounters larger than normal particles shed by comet 2P/Encke, the parent comet of the the Taurids."