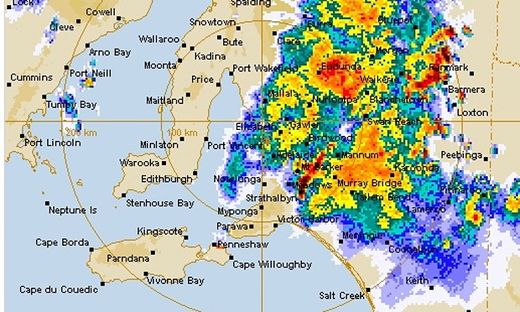 Storms caused flooding in regional centres, with properties in Whyalla, Port Pirie and Kapunda the worst hit
A
rare tornado
has touched down east of Adelaide as severe storms swept across the state causing isolated flooding and other damage.
The State Emergency Service said the category F1 or F2 twister had likely brought down trees in the Monarto area on Wednesday but there were no reports of any injuries or property damage.
"It's
fairly unusual
to experience them but we do get them from time to time," SES duty officer Graeme Wynwood said.
"But it's not like the American tornado season where we see lots of them banking up."
The storms also caused flooding in some regional centres with properties in Whyalla, Port Pirie and Kapunda the worst hit.
In Kapunda, the art gallery was inundated while other buildings suffered roof damage from strong winds.
Eastern parts of SA were bracing for winds of up to 125km/h late on Wednesday as the weather system moved towards the Victorian border.
Adelaide was spared from the worst of the wind and rain with clear conditions prevailing.
SA was also hit by heavy rain on Tuesday with Port Pirie getting 87mm, Whyalla 58mm and towns on the Eyre Peninsula more than 60mm.
About 20 businesses were flooded in Port Lincoln, prompting 18-year-old Tamara Barker to paddle her kayak through a local drive-thru for her burger and fries fix. The town's shopping strip was under a metre of water after a pump failed.
Barker said the staff were impressed by her creativity and determination as she paddled through.
"They all just sort of laughed and said 'this is the best thing. No one thought a kayak would come through the drive-thru'," she said.
Australian Associated Press