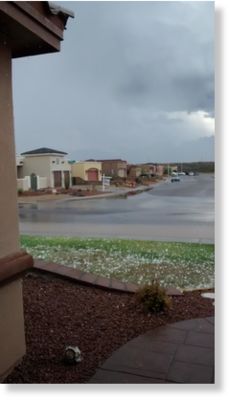 For about 20 minutes on Saturday afternoon, it sounded like the end of the world in Las Cruces. A massive hailstorm pounded roofs and cars on the East Mesa and in other parts of Las Cruces.
The National Weather Service reported hail of about 1.25 inches.
But some areas of Las Cruces reported golf ball-sized hail. And the resulting damage was devastating:
some homes reported every skylight broken; cars were dented; even car windshields were shattered. Many life-long residents of the city said it was the worst hailstorm they had ever witnessed.
Green lawns turned into a sea of white hail stones, while streets were flooded from the heavy rains. Official rain totals were less than a half-inch, but some areas of the city reported more than one inch of rain.
Scattered showers and thunderstorms are expected in the area through at least Tuesday. Saturday's storm was the result of a cold front. It has dropped high temperatures from the mid 80's to the mid 70's for the next week.