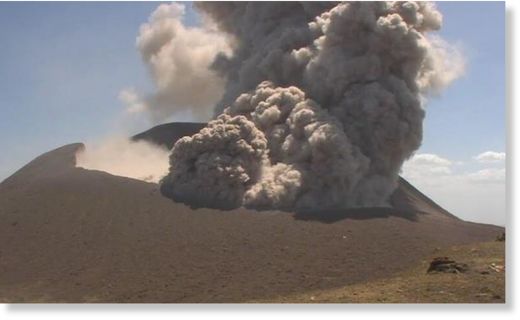 The Telica volcano located in northwestern Nicaragua has once again erupted, after it started spewing smoke on Wednesday.
According to the AFP, civil defense officials in the region have described dense volcanic ash settling over the six surrounding villages. Evertz Delgadillo, a member of the local municipal disaster prevention committee, said the first explosion lasted 20 minutes and was followed by three other shorter explosions.
Back in May, the 90-mile-high volcano erupted twice.
The Nicaraguan government has previously shown some hesitancy in ordering the evacuation of the people who live near the active volcano.
Back in May, Omar Espinoza, a police chief in the area who was carefully monitoring the situation, told the local media that: "We have designed a contingency plan for people who find they need to evacuate, their property, and to deal with their animals.
"We're working with Telica police also and at any moment we'll receive backup from Leon municipality to guarantee the well-being of people who live around the Telica volcano," Espinoza was quoted in the
Independent.
But, when the locals aren't scrambling for their lives, the volcano is a big tourist draw.
A vacation post on Vianica.com explains that an explorer can walk up to the volcano's rim to take a look in. The site reads: "If you're lucky -- or if you happen to be there when it's dark -- you will see the lava boiling and glowing in the depth, 120 meters below. This spectacular feeling will even be improved when you look around."
The Telica volcano forms part of a chain of volcanoes that extend to Lake Nicaragua.
Alejandra Gil, a traveling blogger who runs a site called Lales Waderlust, recently wrote about the great time she had on Telica, saying, "If you're lucky you'll get to see the lava glowing and boiling at the bottom of the crater, 120 meters below."
Explosión del volcán Telica en León, cenizas afectan Quezalguaque, Posoltega y otras comunidades... pic.twitter.com/yAUujbzkKl

— Dennis Schwartz (@dennischwartz) September 23, 2015