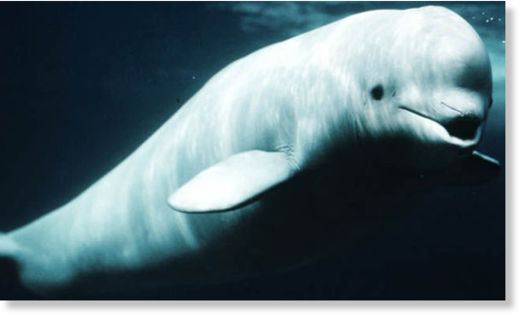 Delighted holidaymakers caught sight of two elusive beluga whales swimming casually off a Northumberland beach over the weekend in arguably the wildlife event of the year.
Belugas are some of the most charismatic of all the whales,
their ghostly white forms blending with the ice floes of their native haunts off Greenland and the Barents Sea.

They are extremely rare visitors to British waters and until last month there had only ever been 17 recorded sightings throughout history, with the vast majority in Scotland.
After one was filmed off the coast of County Antrim in July, two other belugas have now turned up in the North Sea, with experts highlighting the unusually low water temperatures this summer as a possible cause for their visits.
Whatever the reasons, for fortunate whale-watchers the chance of seeing the belugas is a once in a lifetime happening.
The first lucky observer was Sam Newman who spotted the unmistakable white whale from the sweeping beach at Warkworth, Northumberland, on Sunday, and managed to take some photographs, which he sent through to Sea Watch sightings officer Kathy James who confirmed the beluga sighting.
"I was a bit sceptical and laughed it off as I rounded the corner to the beach and saw a small white boat anchored offshore, so I discounted it altogether," said Steve. "Moments later though, I saw what was clearly a white whale in the sea, and realised that this was the whale I'd been told about.
"I've never seen whales before, except on TV, but this was quite obviously a beluga. In fact, there were two. They were white, had a bulbous head and no dorsal fin. I saw one about 100-150 metres out and the second one showed itself a distance beyond that. My wife and I watched the nearest one for an hour, as it repeatedly went under and re-surfaced along this small stretch of coastline."
Another beach visitor Deb Powis managed to capture some footage of the belugas on her mobile phone.
"There were locals who were walking their dogs who have been walking the beach all their life and have never seen a whale in all that time", she said.
For all their rarity, belugas are highly distinctive whales, with pure white adults measuring up to six metres in length with small, bulbous heads and smooth backs with no dorsal fins.
"The beluga sighting during the National Whale and Dolphin Watch was a real surprise for us," said Sea Watch Foundation's Kathy James
. "It was perhaps more of a surprise, however, to hear of two more belugas many miles away off the Northumberland coast."
The arrival of the beluga follows the sighting of another High Arctic cetacean, a bowhead whale, which was filmed on a smartphone in the Isles of Scilly in February
Dr Peter Evans, director of the Sea Watch Foundation, said: "In that instance it was thought that the fragmentation of floating ice may have resulted in whales typically associated with pack ice, straying much further south. Whether the same has occurred in the case of these belugas is not clear,
but sea temperatures have been unusually low this summer.
"This may in part explain why Arctic species like beluga and bowhead have turned up in our coastal waters during 2015. Belugas do occasionally come south from the Barents Sea along the west coast of Norway,
but it is very rare for them to travel as far south as NE England."