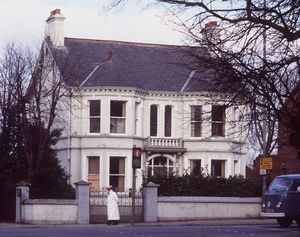 The child sex scandal now rocking Parliament and the political establishment in England has an all-too-familiar ring to it back home here.
Because, once again, it has brought back the ghost of the Kincora scandal to haunt Northern Ireland.
And so it should...
I lost files on child sex abusers in early 2001.
It happened during a house move and boxes that had lain in a shed unpacked for five years since the last house move were consigned unopened to the rubbish tip.
It was a rash act I deeply regretted some months later when I wanted to find documents long since buried in some landfill site... documents relating to two notorious paedophiles, Fr Brendan Smyth and William McGrath of Kincora and Orange Order infamy.
Of course the loss of my files did not interfere with the process of justice.
Survivors of abuse by these two serial offenders had the satisfaction of seeing them in court, witnessing their conviction and being sentenced to terms of imprisonment.
And then the evil perpetrators died.
But the same can't be said for
the 114 British Home Office files detailing accusations of child sex abuse in Westminster that apparently have gone missing, possibly destroyed
... no one knows.
Mark Sedwill, the top civil servant in the Home Office, turned up last week to share the benefit of his knowledge with a Commons Home Affairs committee.
As it turned out, he knew less than a Home Office teaboy - at least that's how MP Tom Watson described Mr Sedwill's testimony.
Mr Sedwill admitted he didn't know the titles or the content of the documents which dated from 1979 through to 1999 and he then refused to tell the committee the name of the man he had appointed to investigate the disappearance of the missing files.
Worse was to come.
He told the startled committee something that should trouble us all. He told them that,
at the time, Home Office documents were destroyed after two years
.
A convenient system - cynics might think - of engaging in acts of cover-up.
Of course the establishment will rally round and deny any cover-up, but in the aftermath of the revelations of abuse by Jimmy Savile, you can be sure survivors of abuse have been given another dose of empowerment that will not easily be diminished or brushed off with limp explanations.
And, of course, we in Northern Ireland have 'previous' when it comes to child sex abuse being covered up to protect despicable activities and conduct by elements of the British establishment.
People of a certain age will recall the name Kincora, while the younger generations will need to be given a short history lesson about the hostel for young men on the Upper Newtownards Road in Belfast.
It was a place where all three members of staff were sexually assaulting the young men whose lives had been devastated by the breakdown of their family lives that left them alone and vulnerable.
Joe Mains was the warder, his deputy was Raymond Semple.
For years, they abused children there, but once William McGrath arrived as house father in the early '70s the level of abuse increased dramatically as he brutally raped young men in Kincora.
McGrath pleaded not guilty and vowed to have his day in court where he would reveal names and details of what was going on at Kincora.
But as I sat in Crumlin Road courthouse that morning in December 1981 waiting to hear McGrath's story, he was instructing barrister Desmond Boal in a cell below the courtroom that he wished to change his plea to guilty.
This lack of ventilation of the facts meant that ever since there's been intrigue about
McGrath's life as a leading Orangeman, a prominent unionist and leader of a shadowy loyalist group known as Tara. He was a family man deeply steeped in evangelical prayer groups
.
But he was also a homosexual and a paedophile.
And he was also being protected.
Attempts to expose McGrath as an abuser were blocked by MI5
- first they prevented the original police investigation from getting access to an MI5 officer who during his service in Northern Ireland had warned off an army intelligence officer from trying to expose McGrath the paedophile.
There have been six inquiries into the Kincora scandal... none of which got anywhere near the kind of truth that should be exposed - namely the political associations of William McGrath and the true extent of the service he provided to the State through his work with MI5.
So last week when Patrick Corrigan of Amnesty International called for Kincora to be included in the inquiry announced by British Home Secretary Theresa May, it was a very good call.
McGrath mixed in the higher echelons of unionism. He knew people like Sir Knox Cunningham, Jim Molyneaux, Sir Reg Empey, Lord Laird, Ian Paisley and Nelson McCausland through his work with the Orange Lodge set up by McGrath, Ireland's Heritage Lodge 1303.
During more than 20 years of researching Kincora and William McGrath, I made connections with many people hiding their homosexuality in the less confined spaces of places like London.
Author Robin Bryans who used the pseudonym Robert Harbinson was one such person who came from a leading Orange Order family.
Like some others I met, Bryans was alarmed at the activities of some homosexuals who also engaged in child sex abuse and who, for that reason, was happy to expose the child abusers.
It brought the issue of child sex abuse to members of the wider Royal family. There were allegations about Lord Mountbatten.
I discovered why Sir Anthony Blunt - once a highly regarded member of the British establishment who looked after the Queen's art collection, but who was actually a Russian spy - was a frequent visitor to Northern Ireland to see his gay lover Peter Montgomery from Fivemiletown in Tyrone.
Montgomery was a captain in army intelligence during World War 2 and crucially he was visited in Fivemiletown by Russian spy Blunt during at least one of his brief visits home on leave.
Montgomery became the High Sheriff of Tyrone in 1964 and later became Her Majesty's Vice-Lieutenant for the same county.
I also found out about a number of under-secretaries employed at Stormont who had links to Kincora - one of whom - P.T.E. England -
had a conviction for sexual misconduct at a public toilet in England and who in spite of this conviction and £100 fine was allowed to maintain his job with the security services
. His positive vetting remained intact.
There's much to be investigated and exposed. It's time for some transparency.
How and why has MI5 successfully blocked all attempts to expose their involvement in Kincora?
Why did MI5 allow young men to continue to face rape and sexual assault while they continued to run an operation centred on Kincora?
What was of such value to the State that it was considered more important than stopping the rape and sexual abuse of young men?
So far, the British establishment has successfully prevented the truth of Kincora from becoming known.
Now it looks like the Historical Abuse Inquiry under former judge Sir Anthony Hart is going to lead to a full exposure of the facts.
We do need a proper investigation into Kincora and all its political strands to finally end years of speculation and bring some justice to those who suffered abuse while MI5 and the British establishment sat on their hands and did nothing.
But don't hold your breath.
Peace in the Middle East might be a better bet.