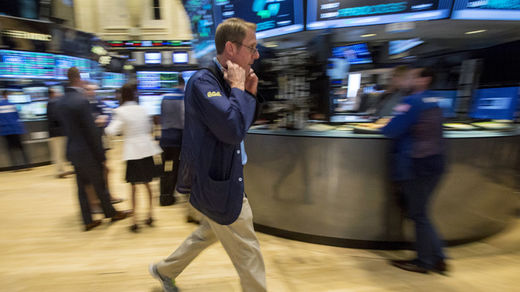 Trading on the New York Stock Exchange floor was halted shortly after 11:30 am local time Wednesday, with all screens displaying the "No quotation" message, according to eyewitnesses.
"It's chaos. No one seems to know the root of the cause which seems to me is making everything worse," a source on the floor of the stock exchange said, according to Bloomberg reporter Leslie Picker.
The NYSE is reportedly rushing to fix the "technical problem," but there has been no official explanation why all floor trading has been halted. The exchange said it was canceling all open orders as well.
"We've had some technical malfunctions. Some may be related to connectivity with other exchanges. I believe we're going to have a temporary pause certainly in a variety of stocks perhaps floor wide," Art Cashin, director of floor operations at the NYSE, told CNBC.
The NYSE suspended all trading at 11:32, half an hour after initial reports of a technical problem, according to Yahoo Finance.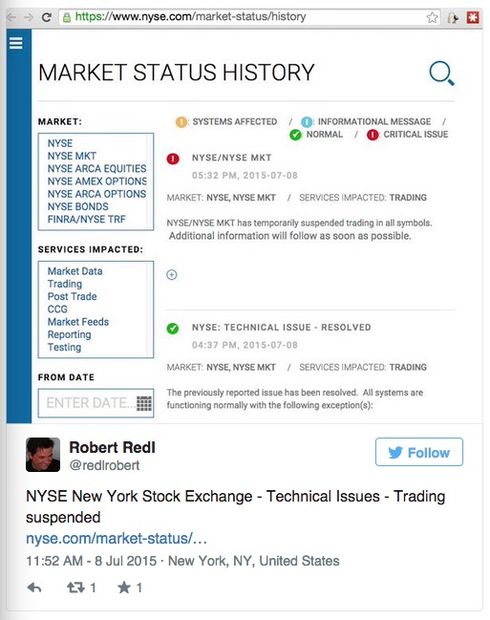 NYSE stocks are still being traded through other venues, Reuters reported.
NASDAQ announced its systems were operating normally and trading NYSE securities.
Other exchanges, such as NYSE Arca and NYSE Amex/Arca Options, are "unaffected by this issue and continue normal operations at this time," the stock exchange
said
.
The Wall Street Journal website (
wsj.com
) was down as well.
Earlier today, United Airlines grounded its entire fleet for over three hours due to a computer problem.
Department of Homeland Security (DHS) officials said there was "no indication" of a cyber attack behind the problems at the NYSE, United Airlines or the Wall Street Journal's website.
The WSJ site was back online just after 12:00 p.m. ET.