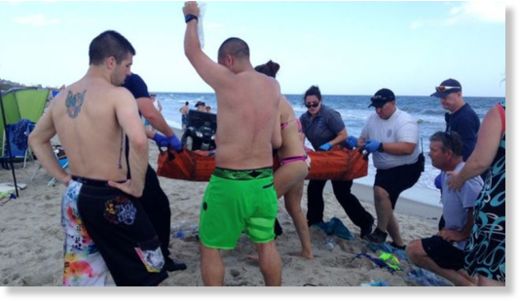 A teenager was in serious condition Sunday after being bitten by a shark off North Carolina,
the latest in a string of shark attacks that have swimmers in the state gripped by fear.

The 18-year-old victim nearly died after the attack Saturday afternoon on the Outer Banks. It was the second shark attack on the Outer Banks in as many days and the sixth attack off the coast of North Carolina in the past two weeks.
The unidentified young man arrived at Sentara Norfolk General Hospital in Norfolk, Virginia, in critical risk of dying, a spokeswoman said told The Associated Press Sunday.
Carol Flynn said the teen's condition had improved, allowing doctors to upgrade his condition from critical to serious.
Rescue personnel and park rangers responded to the 18-year-old, who received what they described as injuries to his right calf, buttocks and both hands, according to a post on the National Park Service's Facebook page. The boy was swimming with others when he was bitten, but no one else was hurt, officials said. Park rangers initially said he was 17.
The teenager was treated at the scene before being airlifted to Sentara, the park service said.
Outerbanksvoice.com spoke to Mark McCarraher, co-owner of the Rodanthe Pier, who said witnesses told him "it looked like a bull shark."
On Friday, a North Carolina man was bitten on his back and leg in Avon while playing in the surf with his children. A 43-year-old man was also attacked by a shark near Hilton Head Island, S.C., on Friday. Both men were treated for non-life threatening injuries.
Sharks have attacked several children along North Carolina's coast this month, including a 13-year-old girl who lost her left arm below the elbow and a 16-year-old boy who lost his left arm above the elbow, about 90 minutes apart, at Oak Island.
"It's summertime and there's a lot of people in the water," shark expert Rob Hueter told Fox & Friends Sunday. "North Carolina is a fairly sharky place and I think it's happening there because the beaches are full of surf. It's a high-energy beach. You've got sharks in close to shore because they are feeding."
Hueter said there isn't one shark to blame for all the attacks.
"Believe me this is multiple sharks, multiple people getting bitten," he said.
He also said the sharks to blame aren't "Jaws."
"We're not talking about great white sharks here. That's important for people not to get in their head, that we're talking about 25-foot animals that are coming in and going after people," Hueter, director of the Center for Shark Research at the Mote Marine Lab in Sarasota, Fla., said.
He said the sharks are 6-foot or 7-foot long at the most, maybe a bigger bull shark.
"The sharks are just trying to find food," Hueter said. "They're not hunting for people and in that environment it's hard for the sharks to tell the people from their prey."
Some have theorized that shark attacks have occurred off North Carolina as the sharks pursue sea turtles who come out of the water around this time of the year to hatch eggs on the beach.
Hueter mentioned some things North Carolina beachgoers could do to avoid being bitten by a shark.
"What people need to do is first be aware that there are sharks there," he said. "Secondly, try to be vigilant in the area where they're swimming. Don't go too far off shore. Don't go out by yourself because then you become sort of an isolated person. And, third, definitely stay away from places where people are fishing for larger fish."