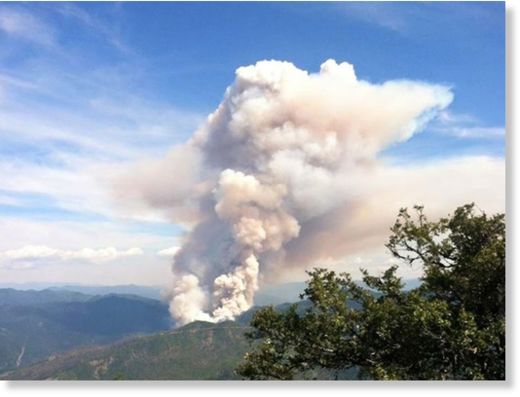 An out-of-control wildfire raging through a Northern California forest as the state battles a devastating drought has forced authorities to warn about 250 people to evacuate or prepare to leave their homes in a remote town, officials said on Friday.
The fire in the Shasta-Trinity National Forest follows an outbreak of lightning-sparked blazes in neighboring Oregon that prompted authorities to warn residents that drought and low mountain snowpack could lead to a destructive fire season.
California's so-called Saddle Fire has charred at least 880 acres (360 hectares) since a lightning strike sparked it on Tuesday, officials said.
The flames are tearing through forest land, much of it in areas scorched by a 2004 blaze that has left dead and downed trees on the ground which could provide ample fuel for the latest wildfire, said Shasta-Trinity National Forest spokeswoman Andrea Capps.
Also the area has many damaged trees with limbs at risk of falling, Capps said. Firefighters have not managed to build any solid containment lines against the wildfire.
"It makes it a really dangerous situation for our firefighters out in the field," she said.
Authorities placed a handful of residents on the outskirts of Hyampom, a town about 200 miles (320 km) north of San Francisco, under mandatory evacuation orders on Wednesday and told the rest of the town of about 250 people to prepare to leave if flames get near, said Trinity County Sheriff's Department spokeswoman Lynn Ward. Those orders remain in place.
One front of the fire is just a couple miles north of the town, and if it advances to the southeast the blaze could destroy homes, Capps said. So far, the blaze has not destroyed any structures.
Nearly 200 firefighters are battling the fire, setting backfires to clear trees that could be consumed by the blaze and dropping flame retardant by helicopter, she said.
The wildfire is the first major Northern California blaze in an annual fire season that normally runs from June to September in that region, Capps said. It also is the nation's highest-priority wildfire, she said.
Since it began, the fire has advanced in the late afternoon hours when winds and heat increase and moisture levels drop, Capps said.
"We have lots of resources out there, we're feeling good about the people we have on the ground, we feel hopeful about being able to catch this in the next few days," she said.
Source: Reuters