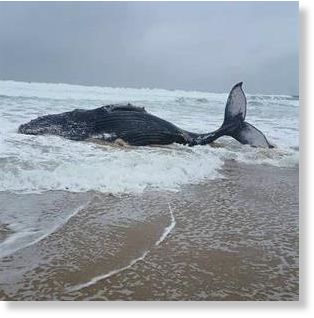 The rescue operation to save a Humpback whale that beached earlier today in Great Brak, was unsuccessful.
According to Tersia Marais, freelance photographer for the
Mossel Bay Advertiser
, who arrived on the scene shortly after it was reported this morning that a whale beached, the operation was abandoned at around 13:30.
"The beach is being cleared from bystanders and general public, as the whale will have to be euthanized," Marais reported.
Members of the NSRI arrived around 11:22 and battled in rough sea conditions to get the whale back into the surf. They were assisted by Pinnacle Conservation and some members of the angling fraternity and the public.
Bystanders said that the whale was sunk deeply into the sand and at the start of the rescue already weak and kept on washing back.