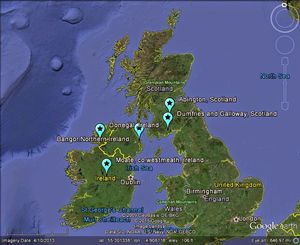 15MAR2015
Maga Moate, co.westmeath, Ireland 21:00:00 5-6 seconds N-S.
Very bright orange with a green tail, very close like firework, slow moving Brighter than Venus
. No fragments. No pictures.
15MAR2015
Jamie MacEwan aka Jamie Groobel. Screwtop Fulton, Amisfield, Dumfries and Galloway, Scotland. Approx 20.59 GMt 2-ish seconds South East towards North west. Orange ball followed by a bunson burner effect tail: yellow surrounded by pale blue/ white. Almost like a car headlight at full beam at 400 metres No. I have seen fragmentation once before. I thought that experience would never be topped (2012 - unreported).
I feel as if I am in a state of shock
. I watched an object travelling east to west in the small hours of the morning on a clear, crisp morning in the spring of 2012 whilst driving an HGV across the A66 from Scotch Corner to Kendal. On that occasion the Orange ball split into around 4 pieces in way that I can only describe as like a rocket breaking apart.
Tonight it was not like that -'around 2 or so seconds then it appeared to 'burn out'. Incredible!!
15MAR2015
Nick Bangor. Northern Ireland. 21.07 2 sw-ne green. Umm, it lit clouds up and roof of homes yes. Very bright, passed in and out of clouds.
15MAR2015
Gregor White Abington, Scotland 21:00:00 6 secs S to N. Me facing West. Fireball with tail. Very bright. No Fast, S to N travel.
15MAR2015
We were driving home tonight at 21:00 in Fortstewart ,Ramelton,Co Donegal,Ireland. We saw what looked like a green shooting star streak across the clear sky, it had a red trail, i
t then appeared to explode creating a large green flash.
- Maura M.