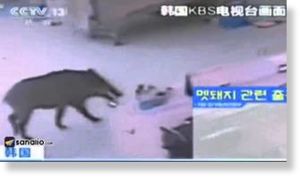 Dozens of diners ran for their lives as a raging wild boar smashed its way into a motorway service station cafe - and the carnage was caught on CCTV
This is the moment terrified diners ran for their lives when a wild pig smashed its way into a service station restaurant in South Korea.
Dozens of customers fled in terror as a rampaging wild boar broke into the Highway Rest Stop cafe, smashing windows and slamming into walls.
The angry animal attacked the glass door of the cafe at full speed
before wreaking havoc inside as punters scrambled to avoid a pummelling - with some even standing on tables to get out of the way.
Another customer picked up a chair in case he had to fend off the fearsome beast.
And the whole thing was captured in terrifying video footage from surveillance cameras in the restaurant.
The incident was broadcast on Korean news channel CCTV, which showed the hole left by the peeved porker in a low window before it laid the place to waste and escaped through a sliding door.