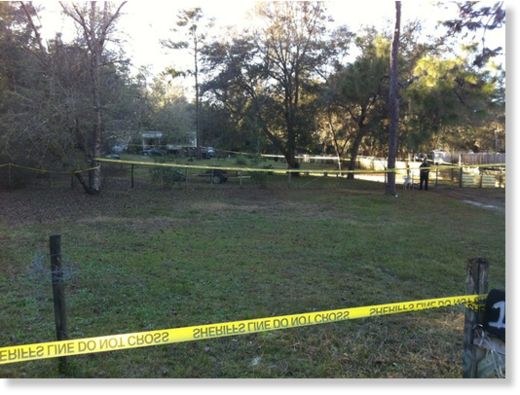 An 18-month-old boy was killed by the family's two dogs Monday morning, according to the Hernando County Sheriff's Office.
Deputies responded to the 16000 block of Cherokee Road in Brooksville at 10:58 a.m. regarding a dog bite to a small child. Hernando County Fire Rescue also responded to the scene.
"It is a terrible, terrible event," said Sheriff Al Nienhuis. "Obviously even those of us who work with death and dying and serious injuries every day, the firefighters on scene I talked to earlier, they were heartbroken and the deputies, as well."
Deputies said Declan Moss was playing on the porch with his grandfather watching him.

For some reason, the dogs attacked him and he died from those injuries.

The dogs are described as medium-sized, mixed breeds.

Neighbors said they always appeared to be friendly.
"The child's been out in the yard playing with the dogs before and when the grandfather told me what happened, I was shocked. The dogs normally got along with kids," said Charles Shorey, who lives next door.
Deputies said the child's grandfather, Gregory Moss, tried to pull the dogs off him but it was too late.
The family told authorities they've never had any problems with the dogs before and they have no idea what sparked the attack.
"I talked to the mother earlier and she was obviously devastated she wasn't here when it occurred but she was defending the dogs and said it's not necessarily the breed of dog," said Sheriff Nienhuis.
Shorey called the situation "heartbreaking."
"He was a beautiful kid. I feel so sorry for the mother," he said.
The sheriff's office said the dogs have been taken to the animal shelter. They aren't sure yet what will happen to them.
The investigation continues but so far no charges have been filed.