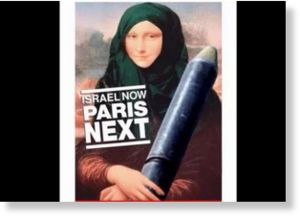 "We told you so, France."
That appears to be the message implied in a provocative tweet courtesy of the Israeli embassy in Ireland, which reposted a photograph on its Twitter account on Wednesday featuring Mona Lisa decked out in Islamic garb while holding what appears to be a rocket. The apparent implied message is that the recent Paris attacks amount to French society and culture having been overtaken by Muslim extremism.
The image was
originally posted by the Israeli embassy in Ireland in July last year
along with three other images depicting iconic figures of other European nations as being under threat of a takeover by Islamic radicals. At the time the images were quickly removed after a popular backlash against what was labeled "crass propaganda".