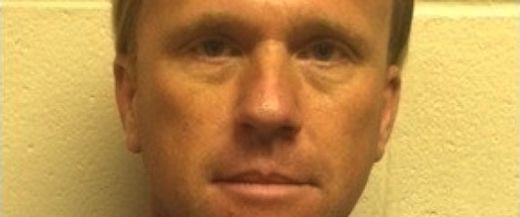 Wilson Longanecker, Jr., who served as a town councilman and then as Mayor of Sorrento, Louisiana, from 2011 to 2013, was arrested Dec. 29 on four counts of cruelty to animals and three counts of aggravated cruelty to animals, according to the
Advocate
.
The
Advocate
also reports that, at that time, Longanecker had already been in custody in Ascension Parish prison since Oct. 23, facing 42 counts of possessing child pornography and one count of obstruction of justice, with bail set at $1.025 million.
Sorrento is a town in Ascension Parish, near Baton Rouge.
Officials with the Northside Humane Society and the Capital Area Animal Welfare Society (CAAWS) were shocked and recalled that on a Saturday, July 7, 2012, the former mayor had stopped by a PetSmart adoption event held at its store in Baton Rouge and he had bottle-fed two newborn kittens that had lost their mother.
Longanecker, 42, came to the store by himself that day and said he was looking for cats to adopt because he wanted his children to have cats in his big house in Sorrento. He promised the rescuers, "They'll be spoiled," Lori D'Arensbourg, president of the Northside Humane Society told
Advocate
reporter David J. Mitchell.
D'Arensbourg and other cat rescue volunteers were upset and very worried about the cats he adopted that day when they learned this week that Longanecker was arrested on seven counts of animal cruelty involving cats.
Although D'Arensbourg and Stacey Orillion, cat chairperson of the Capital Area Animal Welfare Society, said it is unusual for someone to adopt cats for his children by himself,
Longanecker's charm won their confidence
;
and he adopted from both agencies without home checks
.

Comment: A hallmark trait of the psychopathic personality is their charm and ability to manipulate other people. Empathetic people, like the kind that would work an animal welfare organization, are natural targets for them.


They told the
Advocate
reporter that Longanecker filled out the screening questionnaires and applications and paid fees of $80 - $100 each for three cats and had his photo taken with them.
An affidavit of probable cause supporting Longanecker's arrest says state investigators found videos and images of torture and abuse of cats dated from October 8, 2012 to January 9, 2013, on electronic devices found in his home Oct. 23, according to the
Advocate
.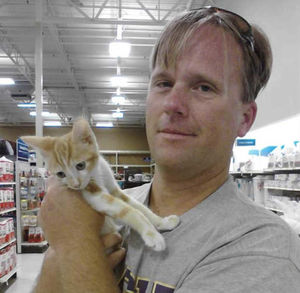 Some images, the affidavit states, show
a cat with a bloody face and the fur ripped off, and blood coming from the nose and mouth
, the
Advocate
reports.
Other images show a
cat being choked by hand, then with a shoelace around the cat's neck and then with duct tape placed around the cat's mouth, nose and throat
, the affidavit says.

Comment: It is absolutely evil what a sadistic psychopath is capable of.


One orange-and-white cat had its leg apparently broken by Longanecker out of the view of the camera, according to the affidavit.
A photo provided to the
Sun Herald
by Stacey Orillion of Capital Area Animal Welfare Society shows Longanecker holding an orange and white cat, named Murdock, which he adopted from them on July 7.
No connection has been made yet between the cats in the videos and images that state investigators found and the three cats adopted on July 7, 2012. However, both shelters gave Longanecker an orange and white cat, the
Advocate
reports.
After their heartbreaking experience with Longanecker, volunteer officials told the
Advocate
that both Northside and CAAWS modified their adoption policies to require home checks first or at least that volunteers meet the children who will be in an adopted cat's home.
Sources:
The Advocate
,
Sun Herald