The number of beneficiaries on the Supplemental Nutrition Assistance Program (SNAP) - AKA food stamps--has topped 46,000,000 for 38th straight month, according to data released by the Department of Agriculture (USDA).
In October 2014, the latest month reported, there were 46,674,364 Americans on food stamps. Food stamp recipients have exceeded 46 million since September 2011.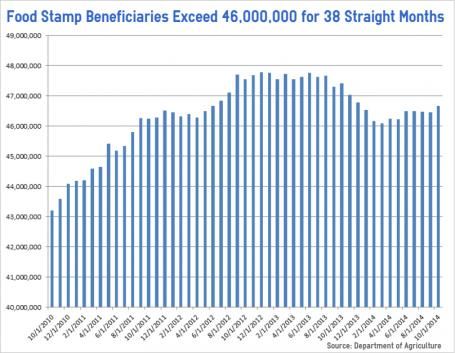 The 46,674,364 on food stamps in October was an increase of 214,434 from the 46,459,930 on food stamps in September.
As of July, the national population was 318,857,056, the Census Bureau estimates. Thus, the 46,674,364 on food stamps equaled 14.6 percent of the population.
The number of households on food stamps increased from 22,749,951 in September to 22,867,248 in October, an increase of 117,297.
As of September, according to the Census Bureau, there were 115,831,000 households in the country. Thus, the 22,867,248 households on food stamps in October equaled 19.7 percent of the nation's households.
The 46,674,364 people on food stamps in the United States also exceeded the total populations of Columbia (46,245,297), Kenya (46,245,297), Ukraine (44,291,413) and Argentina (43,024,374).
They were slightly fewer than the population of Spain (47,737,941).
Households on food stamps got an average benefit of $261.44 during the month, and total benefits for the month cost taxpayers $5,978,320,593.
In 1969, the average participation in the SNAP program stood at 2,878,000. In 2014, average participation grew to 46,536,000
showing an increase of 1516.96 percent
.