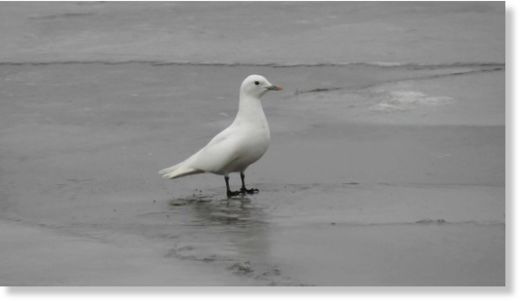 Bird enthusiasts from all over the Midwest descended upon Quincy Saturday to get a glimpse of the extremely rare Ivory Gull.
"It's a fairly small gull but very elegant, pure white with very dark eyes and legs, with this cute little bill that's dark with a yellow tip on it," biology professor Jim Mountjoy said.
It was rainy, cold, and damp. But that didn't stop Knox College Biology Professor and bird expert Jim Mountjoy from getting a glimpse of the Ivory Gull.
He says the bird is a native of the high Arctic Islands and is rarely seen in the lower 48.
"This is an exceedingly rare bird to spot this far south," Mountjoy said. "Anywhere in the continental United States it's pretty hard to see, even if you go to Alaska it's sometimes quite difficult."
Mountjoy says he's been bird watching for over 40 years, and has only spotted the Ivory Gull one other time. He calls Saturday a very rare sighting in the state of Illinois.
"In 1991 there were two records of the Ivory Gull in Illinois and those were the only two well accepted records," Mountjoy said.
Jason Mullins says he was the first person to spot the bird outside of the Pier Restaurant on a patch of ice in Quincy.
"I knew it was something different so I contacted a couple people and we determined later that it was an Ivory Gull, pretty rare," Mullins said.
Mullins considers himself very lucky to be able to see such a magnificent creature.
"It's the bird of a lifetime, Mullins said. "It really is."
Mountjoy says The Ivory Gull survives by feeding on the carcasses of dead seals and other animals.