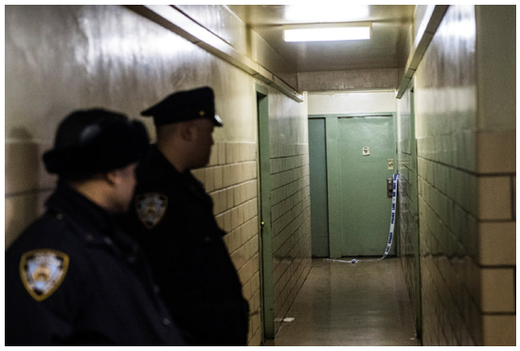 A 23-day-old boy died on Friday after the police found him wounded and unconscious in his family's apartment in East Harlem, the authorities said.
The infant, Deion McNeil, was unresponsive and bleeding from a gash on his forehead when he was found on the living room floor, the police said.
Detectives on Saturday were questioning Deion's mother, Ebony McNeil, who was the only adult at home with the boy when she called the police around 7:30 p.m. on Friday, the authorities said. Two other children - Ms. McNeil's 6-year-old son and 17-month-old daughter - were also at home at the time.
Emergency medical workers took Deion to Metropolitan Hospital Center, which is across the street from the family's apartment in the Washington Houses on Second Avenue at 97th Street. He was born in that hospital, according to a post on the Facebook account of Larry McPhail, his grandfather.
But doctors could not save Deion on Friday.
The police said they were awaiting autopsy results to determine the cause of death. No charges had been filed as of Saturday afternoon.
Neighbors described the apartment building as quiet, and Deion's family as mostly private.
Virginia Salisbury, who has lived in the building for about 15 years, said residents rarely invited trouble.
"It's been good, I like it here," she said. "Never had any problems since I moved in."
Angel Feliciano, 24, who has also lived at the Washington Houses for more than a decade, said he was out caring for his own daughter when the police arrived on Friday night.
"It made me feel so sad," he said. "I've got a kid of my own, she's only a month and 17 days. No one wants to hear nothing like that."
Christopher McKniff, a spokesman for New York City's Administration for Children's Services, said in a statement that the agency "is aware of this situation and together with the N.Y.P.D. are investigating the circumstances surrounding this tragic incident."